Wooden furniture dog crates are a fantastic way of providing your pet pooch with a den without having a 'metal monstrosity' ruining your home decor! We have targeted this article at dog owners seeking to purchase an elegant looking wooden dog crate that will add a touch of class to their home while providing their dog with a place to chill relax in. We will look at a range of wooden dog crates we feel, offer good value for money and present them in a useful comparison table. If you are in a rush, check out our best picks in this table below.

| Image | Model | Features | Our Rating | Price |
| --- | --- | --- | --- | --- |
| | DenHaus TownHaus | Premium finely-crafted end table. Durable kiln dried tropical wood construction with espresso stain. Made in the U.S.A. Check Prices | | $$$$ |
| | Crown Pet Crate Table | Beautiful Hardwood - Looks similar to teak. Stained and Lacquered finish similar to fine furniture. MDF Waterproof floor. Check Prices | | $$$ |
| | Merry Products Cage | Made with MDF and Powder Coated Steel. Easy to Disassemble and Assemble. Includes a removable central divider. Check Prices | | $$ |
| | ecoFlex End Table | Made of tough ecoFLEX wood composite & polymer materials. Available in Small, Medium & Large. Built in 10 minute, no-tool required. Check Prices | | $$ |
There is a large variety of dog crates that
look like furniture
 on the market today that range from budget to designer and premium. Many of these wooden crates are designed to look like pieces of beautiful furniture such as end tables. Your friends might even mistake them for antique pieces! Some wooden
crates
are made of solid wood which is ideal for those with laid back dogs, however, if you need that
extra strength and peace of mind
– there are wooden crates out there that have metal bars to give extra security but do not reduce the aesthetics. Check out our article on
escape proof dog crates
if you have a destructive dog.
Introduction to Wooden Dog Crates
Luckily for dog owners in 2016+ – There are many different types of dog crate available on the market, and wooden furniture crates are one of the most popular.
Wooden Dog Crates are an ideal for those wishing to provide their pooch with a den-like enclosure while at the same time not spoiling a home decor with a hideous metal monstrosity such as a metal crate. Depending on your budget you can find some truly beautiful wooden crates on the market that look elegant, stylish and double up as a useful piece of furniture for any room.
This article aims to educate dog owners on how to choose the best wooden dog crate for their pet. We will cover every aspect of the buying process and provide you with some of our top picks that we rate highly.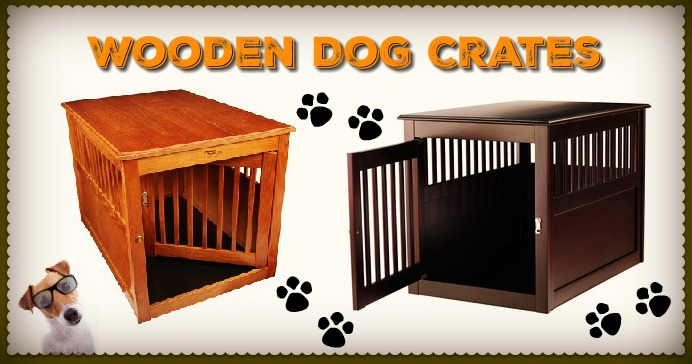 How To Choose a Wooden Dog Crate / Furniture End Table Crate
Now that you have decided that you want a wooden crate for your pooch, you need to choose the right one that will suit your dog and your personal circumstances. There are many factors to consider before purchasing a crate so it is important to take your time to think about each one and find a crate that matches your requirements.
There are many terms used to describe this type of dog crate. Here are a few of the more common ones;
Dog Crate Furniture
Wooden Dog Crates
Dog Crate End Table
Wood Dog Crate
Pet Crate End Table
Furniture Dog Crates
Dog Crates That Look Like Furniture
Attractive Dog Crates
Size & Dimensions
The most important aspect of a dog crate is size. We have covered this in more detail in our dog crate guide; however, it cannot be under-stressed that you should aim to provide your pooch with an adequately sized crate to feel happy and comfortable. If your crate is too small, your dog will feel claustrophobic and cramped and will wish to escape. On the other hand – a crate that is too large can encourage a dog to use one side of it as a toilet.
Furniture dog crates bring unique considerations as you will want a dog crate that compliments your home decor as well as being a functional den for your pooch.
Wood Type / Material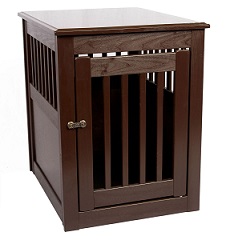 Cherry Wood, Walnut, Mahogany & Maple are all common types of wood used in wooden dog crate construction. All of these are rugged and hard wearing woods ideal for a long lasting crate however there are many cheaper alternatives that do not offer as good value for money.
More Inexpensive wooden dog crates are made from synthetic woods such as MDF which is basically fiberboard made from different hard and soft woods covered with paint. Some of these can work really well and indeed resemble real wood but they will never be able to replicate the strength and aesthetics of real wood.
Features
When choosing a wooden crate for your pooch, it is important to check for features that might be required for your situation and also features that are a bonus increasing the value of the crate. A good example of an important element is the type of door the crate will have. There are many different types of a door that have different opening mechanisms such as sliding mechanism and hinges that allow the door to open inside and out.
The wooden dog crate should not have any potential dangers to your dog such as sharp edges that could cause injuries. Wooden dog crates are very useful as they lack the metal edges that are more dangerous however wood is easier to chew.
Crates with floor grates are great if you have a puppy or a dog that is prone to toilet accidents as grills are easy to pull and allow a comfortable crate clean.
Wooden Furniture Crates feature beautiful looking aesthetic locking mechanisms but are not the strongest locks available. If you need a secure lock, then a wooden dog crate is probably not for you. An escape proof crate would be more suitable for problem dogs and dogs that are prone to escape.
DenHaus TownHaus – A Luxury, Premium End Table Wooden Dog Crate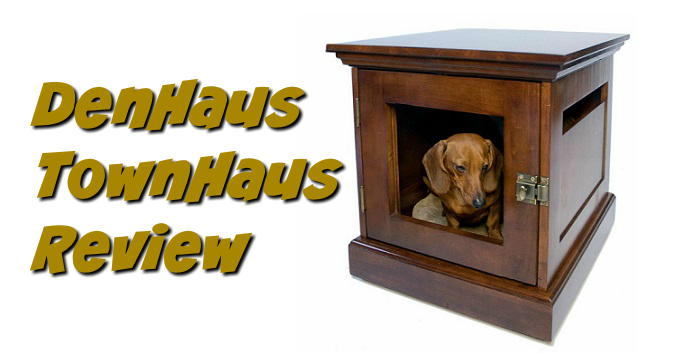 Overview
If you demand warmth, style, and beauty in your home, then the DenHaus TownHaus range of dog crates will suit you very well indeed. This wooden furniture dog crate completely oozes class and has a range of versatile furniture uses besides being your dogs hideaway. A good example of a furniture use would be a side table next to your bed or sofa where you can keep your cup of tea, and a vase of flowers while your pooch rests below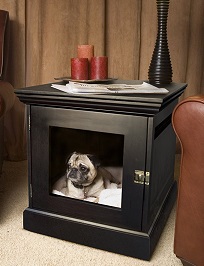 The TownHaus is constructed from solid wood making it very secure as well as looking the part. The wood is kiln dried and high quality that has been processed to remove moisture which ensures a long life free from mildew, cracks, and fissures. The finish is non-toxic and completely safe for animals.
The TownHaus has a uniquely designed door with a removable grate. This feature is relatively rare in furniture crates and looks stylish while being quite secure. For dog owners wanting extra security – A Designer Steel Grate Accessory is available which replaces the wooden grate with a metal design.
DenHaus has been working since 2005 to create crate options for your dog without ruining the look of your home with metal and plastic designs. Construed in the USA to the highest quality, the TownHaus comes in a range of different sizes to suit all breeds and also is available in two gorgeous colors – Mahogany & Espresso.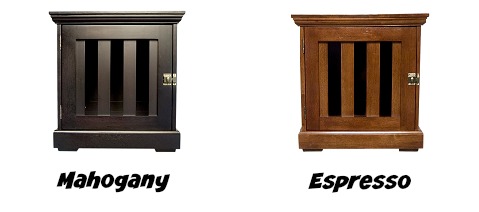 Sizes
| Size | Exterior Dimensions | Interior Dimensions | Dog Weight (Lbs) |
| --- | --- | --- | --- |
| Small | 22.5''H x 19.5''W x 22.5''L | 18''H x 16.5''W x 19''L | Under 25lbs |
| Medium | 26.5''H x 25''W x 29.5''L | 22.5''H x 20.5''W x 26''L | Under 55lbs |
| Large | 31.5''H x 25''W x 35.5''L | 28.5''H x 20.5''W x 32''L | Under 100lbs |
| X-Large | 34''H x 26''W x 41'' L | 31''H x 22''W x 37.5''L | Under 150lbs |
Care
Avoid using harsh cleaners and abrasive chemicals when cleaning this beautiful work of art. Clean any spillages or marks with a soft damn cloth. A slightly damp cloth works wonders to remove stubborn marks and smudges.
Quick Summary
Pros
Beautiful & Elegant
Kiln Dried Wood
Ventilated Well
Cons
Pricey
Heavy
Non-Collapsible
The TownHaus is a wonderfully elegant crate that will compliment any home decor whilst providing your pooch with a stylish den to chill out in. Not the cheapest crate, but a worthy investment of your money if you value a long life and quality.
Crown Pet Crate Table – A Side-Table Dog Crate
Overview
The Crown Crate Table has two functions – To provide your much-loved pet with a den to relax in, and provide your home with a beautiful piece of furniture that complements your room decor.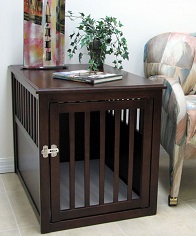 Made from durable hardwood – the crate looks similar to real teak wood while still being affordable. The Crown Crate is beautifully stained with a lacquered finish which gives it a beautiful shine. The door is versatile and swings in and out of the crate and is lockable with a stainless steel latch. The crate is fully ventilated with slats all around, and they also give your pooch a 360-degree view of their surroundings.
It is an attractive dog crate and ranks highly in our minds as a functional crate for your pooch. With that said, if your dog is escape-prone and loves to chew this will probably not be an ideal crate for obvious reasons! It does not look obviously like a dog crate. At first glance, a visitor might recognize an antique piece of furniture.
The Crown Pet Table has over 170 customer reviews as of 2016, and the vast majority of them are five stars. These reviews will give you maximum reassurance before clicking the purchase button that you will be getting a crate that is functional and good looking.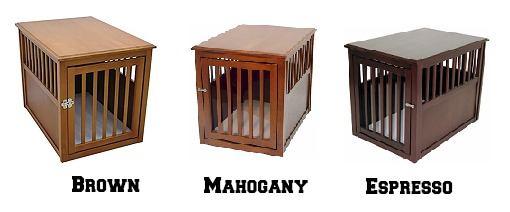 Sizes
| Size | Dimensions |
| --- | --- |
| Medium | 26 inches wide x 39.6 inches deep x 27.31 inches high |
| Large | 21 inches wide x 29.7 inches deep x 24 inches high |
Quick Summary
Pros
Durable Hardwood Construction
Versatile swing-through door
Available in Three Finishes
Cons
Limited number of sizes
Not the strongest wood
Prone to Chewing
A good mid-range wooden crate that looks like a beautiful piece of furniture without breaking the bank. Not aimed at chewing prone dogs as the wood is not of the strong variety.
Merry Products Cage with Crate Cover Set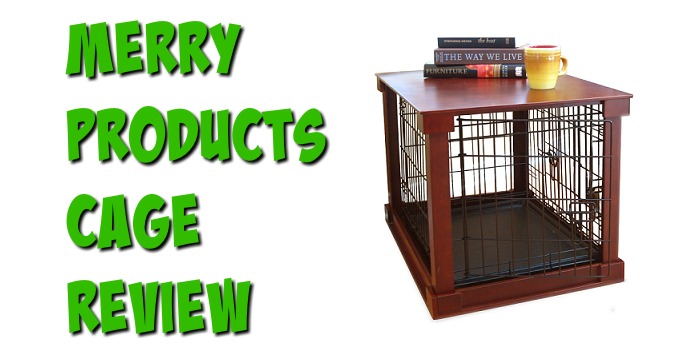 Overview
The Merry Products Dog Crate End Table is an ideal furniture crate if you value excellent ventilation and visibility for your pet. The End Table is not only aimed at the dog crate market but also the furniture market as it is designed to appear like an elegant wooden piece of furniture such as an end table or a bedside table.
The End Table is constructed of MDF with a beautiful brown mahogany coating giving it a classy antique look. The bars are metal with black powder coating.
The removable pan at the bottom of the crate allows you to clean the crate easily. Ideal for those with puppies and those dogs prone to toilet accidents. For those wishing to control the amount of space, your dog has in the crate there is a dividing spacer available. The spacer is handy for those with a growing puppy because gradually increasing the space available to them discourages them from toileting the crate.
The combination of metal and wood gives you the best of both worlds. Robust and relatively heavy duty and classy furniture looking at the same time. This crate will surely make your room look a lot more attractive for you and your pooch.
The end table is available in a wide range of sizes to suit your breed of pooch so be sure to get the one suited to you.
With over 700 mostly positive customer reviews you will have a lot of reassurance before you make the purchase.
Sizes
| Size | Dimensions External | Dimensions Internal | Door |
| --- | --- | --- | --- |
| Small | 27" L x 20.5" W x 22.5" H | 24" L x 18" W x 19" H | 14" L x 12" W |
| Medium | 32.5" L x 21.5" W x 23.5" H | 30" L x 19" W x 21" H | 15" L x 13" W |
| Large | 44.5" L x 30" W x 31.5" H | 42" L x 28" W x 30" H | 23" L x 16" W |
Quick Summary
Pros
Powder Coated for Durability and Looks
Removable Steel Divider for Puppy Training
Available in 3 sizes
Cons
Top cover can be knocked off
Not the Cheapest
Stylish but not Escape Proof
A good looking furniture crate that focuses on being multi-purpose and convenient rather than hard wearing. If you have a dog that is not escape prone then it would be an ideal addition for your home.
ecoFlex Pet Crate/End Table – A Polymer Composite Crate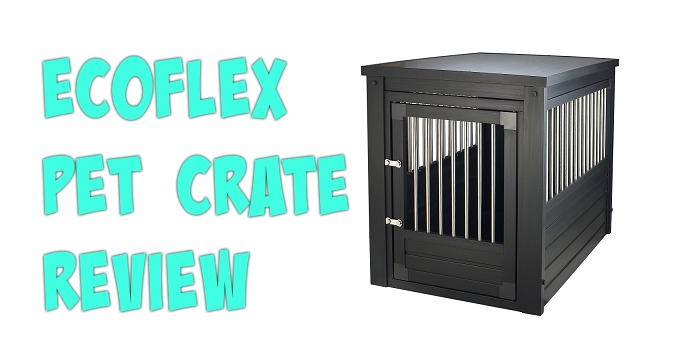 Overview
The EcoFlex Habitat is a beautiful looking furniture crate that will look brilliant in any home. It is one of the larger furniture crates available, so if you own a large breed of dog, this will surely be on your list of wooden dog crates to choose, but the small size is also available. The crate is made from a mix of composite wood and a recycled polymer which is named ecoFlex. By not using proper wood, the company has been able to keep costs down while at the same time providing something that looks just as classy and elegant.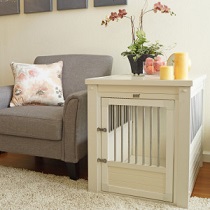 The EcoFlex is ideal for use as an end table that can sit at the side of your sofa with a large top to keep some photos or a vase of flowers on while your beloved pooch rests down below. You will have a choice of three beautiful colors to suit your home making this an ideal furniture crate!
There have been reports that dogs intent on escaping have been able to put stress on the bars and escape, so this crate would not be ideal if you have a Houdini dog. The bars are made from wood like the rest of the structure on the standard ecoflex end table, so it was never designed to be escape proof. If you have a mild temperament pooch that enjoys being in their crate, then this would be a good option.
For those wanting steel bars on the door – The ecoFlex Pet Crate would be more suitable.
The vast majority of customer reviews online paint a positive picture. Most people rate this dog crate five stars out of five giving you maximum peace of mind before clicking the order button.

Sizes
| Size | Dimensions External | Dimensions Internal | Door |
| --- | --- | --- | --- |
| Small | 22" H x 18.1" W x 23.8" | 17.7" H x 15" W x 20.9" | 16" H x 11" W |
| Medium | 25.2" H x 21.1" W x 29.5" | 20.9" H x 17.7" W x 26.8" | 19" H x 13.8" W |
| Large | 28" H x 24" W x 35.4" | 24" H x 20.9" W x 32.7" | 22" H x 16.6" W |
| X-Large | 30.9" H x 27.6" W x 42.5" | 29.1" H x 24.5" W x 39.8" | 25" H x 20" W |
Quick Summary
Pros
Affordable
Range of Colors
Large Top
Cons
Not Real Wood
Wooden Bars
No removable tray
If your dog is not prone to chewing and trying to escape their crate then the EcoFlex Habitat is an ideal furniture crate that will compliment your room decor without breaking the bank.
Conclusion
We hope this article has aided you in your quest to find the perfect wooden furniture crate. Before making your final decision, you should review all options and weigh up the pros and cons of each and evaluate it against the price you will be paying. It stands to reason you will pay more if you want a higher quality product but it does not always mean you will loose out. In the long run, a higher quality wooden crate will last for the entire lifespan of your dog removing the need to buy replacements when your pooch has destroyed a poor quality crate.
As always please leave your comments and suggestions below in the comments section. We specially welcome recommendations of other furniture dog crates that we have not looked at as well as tips, tricks, and doggy tales!
References
1. https://en.wikipedia.org/wiki/Dog_crate
2. http://www.stephaniedyaneblog.com/download/large-wooden-dog-crates/