Welcome to the Husky Harness Guide. Your dedicated resource to finding the best husky harness on the market today! Huskies are known for being great pullers, and it is in their blood because they are bred for this purpose. Not all people want their Husky dog to pull – perhaps you just want a peaceful walk with an obedient dog. We have looked at a selection of harnesses of both types and picked out a few that are highly rated and offer excellent value for money.
If you are in a rush, check out our top picks in this harness product table below.

Image
Model
Features
Our Rating
Price
Pulling Harnesses
Canine Equipment Ultimate Pulling Dog Harness
Extra heavy padding in neck and shoulders. Adjustable for the perfect fit Reflective 3M Piping & Anti-slip slider. Check Prices
$$
Ultra Paws Adjustable Pulling Harness
Ideal for medium to light pulling. Floating o ring puts less stress on the animal's hips when pulling at an angle Belly strap that restricts backing out of the harness. Check Prices
$
Non-Pulling Harnesses
Chai's Choice Best Front Range Dog Harness
Stylish, Durable & Scratch Resistant. An Ergonomic Design ensures Ease of Use putting on and taking off the Harness. 3M Reflective material for Good Visibility at Night. Check Prices
$
This guide is all about the best harnesses available suitable for husky dogs. We will take a look at a range of different ones that suit this particular breed of dog. These will include harnesses for regular dog walking (no pull) as well as those suited for dogs that pull.
We will present you with some of the best harnesses for comfort, safety robustness and offering excellent value for money.
Introduction to Husky Pulling
Huskies make wonderful pets; they are both loyal and intelligent, but they are very athletic and energetic animal that are born to pull and make excellent sled dogs. Since Huskies have become a favorite breed of dog some owners, have found pulling activities that are both fun for the owner and dog. The right husky harness allows this to happen safely and comfortably.

Carting – Also known as sulky driving or dryland mushing, it is an alternative to dog sledding in the urban environment. This activity sees the dog pulling a cart containing some supplies or even an individual. You can buy carts or they can be homemade.
Bikejoring – This is an activity where the owner lets their pet dog pull them along on their bike! The dog is attached to their bike via a harness and a leash. This activity can be performed by one dog or a pack of dogs.
Dog Scootering – This is similar to carting and Bikejoring except the owner is riding a scooter instead of a bike.
Dog hiking – This is for people that live in the wilderness or near woodland trails. The owner travels along wilderness trails with their pet. Sometimes the dog can be made to carry their supplies such as food, water, and bowls.
Skijoring – Used in the same snowy environment that sledding takes place in, this activity is a great alternative that sees the owner being pulled along by their dog while on skis.
Pulling / Sled Harness – Great for Pulling Activities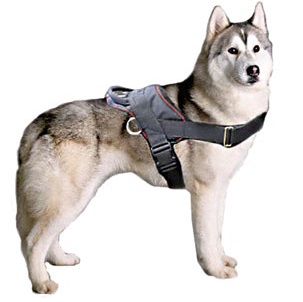 If you are going to undertake any such pulling activities with your husky, it is important that you use the correct type of harness. Dedicated pulling harnesses distribute the pressure evenly across their shoulders and chest freeing up their throat and back from practically choking pressure.
Pulling harnesses tend to be made of much stronger materials than standard walking harnesses and are much harder wearing and likely to last longer. They tend to be made from sturdy nylon that is triple stitched giving it extra durability and strength. Extra padding in the pressure areas makes it comfortable for your dog to wear and pull.
No Pull Harness – Great for Walking your Pooch
Not all husky owners will want to utilize their pets immense pulling power to propel them along or carry supplies! Some just want a regular walk out and about with their pet and of course being such energetic animals, it can be a choir keeping your husky under control. This is where no-pull harnesses come into their own.
No Pull Harnesses are a gentle and natural way of deterring your dog from pulling on the leash. Fitting your dog with such a harness makes it much simpler to walk your dog if they are consistently pulling on the leash. They work by providing an uncomfortable sensation if they attempt to pull mainly by having the leash clipped on the dog's chest as opposed to behind the neck.
---
Canine Equipment Ultimate Pulling Dog Harness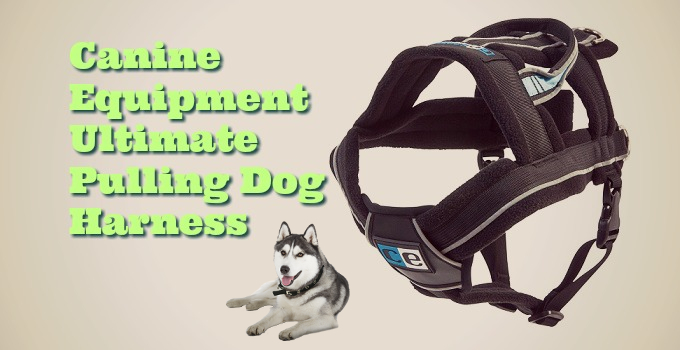 Overview
The Ultimate Pulling Husky Harness! This super comfortable harness is a fantastic accessory for a pulling husky. It may take a couple of times of 'wearing in' but after that, this harness will give your dog maximum comfort as it has extra thick neck and shoulder padding. The harness also features fleece lining that offers extra comfort by minimizing friction. Assuming you get the perfect size for your dog this harness is a world beater especially in comfort.

Durable – Works Well for Skateboarding!
This harness has over 80 customer reviews, and the majority of them are positive giving you maximum peace of mind. The few negative ones make reference to a miss-fit with their dog, but that is probably down to purchasing the wrong size.
Safety Snap Shackle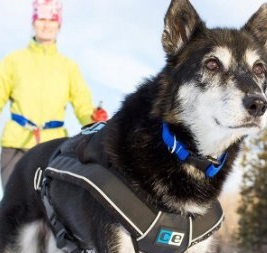 An important safety feature is the snap shackle. This acts as a last ditch shackle that you can operate if your dog runs off out of control and you need to sever the connection fast and efficiently.
You should never loop the towline or leash around your fingers or hands when in use. The husky breed is very energetic, spontaneous and can be distracted by the slightest thing such as a squirrel or a cat making this a great husky harness.
Sizes
This harness is available in a wide range of sizes however most husky customer reviews specify their adult Huskies are a perfect size for the Large or even Extra Large sizes. Always double check your dog's measurements before buying.
| Harness Size | Girth Size (Inches) | Weight (lbs) |
| --- | --- | --- |
| Small | 18-26" | 15-25 |
| Medium | 23-31" | 25-40 |
| Large | 29-39" | 40-75 |
| X-Large | 34-46" | 75+ |
Quick Summary
Pros
Distributes weight evenly across the dog's shoulders and chest
Adjustable for the perfect a fit
Features a safety shackle for quick release
Cons
Metal D Ring has been reported as snapping
Lacks choice of colors
Does not include a Leash / Tow Line (buy seperate)
If you value your dog's comfort above all, then this is the pulling harness for you. The Canine Equipment Ultimate Pulling Dog Harness frees your dog from discomfort even when pulling heavy loads. It also has human safety covered with the safety shackle snap.
---
Ultra Paws Adjustable Pulling Harness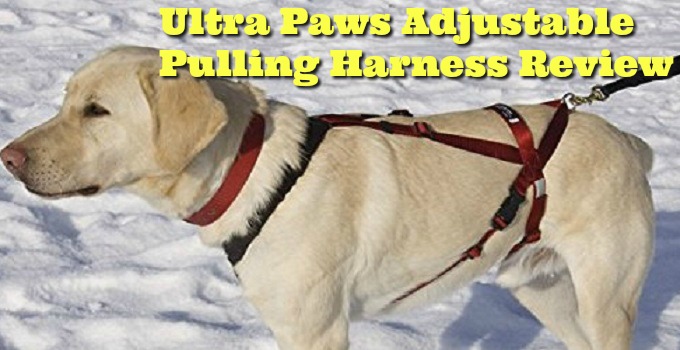 Overview
A unique patented design makes this adjustable harness ideal for activities such as skating, carting and skijoring. It only requires two measurements to get the right size for your dog and the harness itself is available in three sizes.
The harness is padded through the chest and neck area with soft fleece fabric to ensure maximum comfort for your dog, and a floating o-ring lessens the stress on the animal's hips, especially when they are pulling from an angle. In addition to the standard leash attachment is the D-rings on either side of the harness making it fully compatible with some carts and wagons.
One key feature to this pull harness that most others do not have is the belly strap. This acts to prevent the animal from backing up and wiggling out of the harness.

Fits my 80 lbs GSD perfectly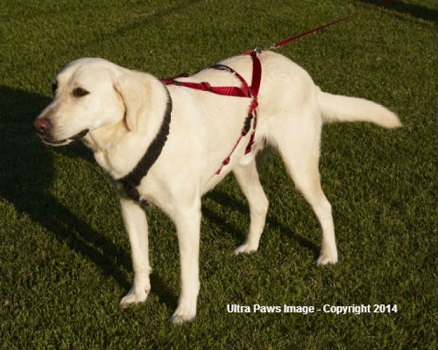 This harness sports over 50 customer reviews and they are overwhelmingly positive but, as always there are a few negative ones. The few negative customer reviews tend to be primarily about the stitching coming undone, so that is something to bear in mind. This harness would be more prone to chewing than more robustly made ones.
Ideal for growing dogs – The adjustable nature of this harness makes it ideal for growing dogs, saving you the money from buying another harness when they reach adult size.
Sizes
There are only three sizes available, but these sizes are very adjustable, and each harness size has a broad range of fitting.
| Harness Size | Collar Range (Inches) | Weight Range (Lbs) |
| --- | --- | --- |
| Small | 8-14" | 0-30lbs |
| Large | 12-24" | 30-75lbs |
| X-Large | 20-34" | 75-120lbs |
Key Feature
Quick Summary
Pros
Belly strap restricts backing out of the harness
Floating O-ring for less hip stress
Fully adjustable
Cons
Only available in the color red
Some reviews report of stitching breaking
Not ideal for pulling heavy loads
Ideal for those with growing dogs and those what want to connect their husky to a light cart utilizing the two D rings on either side.
---
Chai's Choice Best Front Range Dog Harness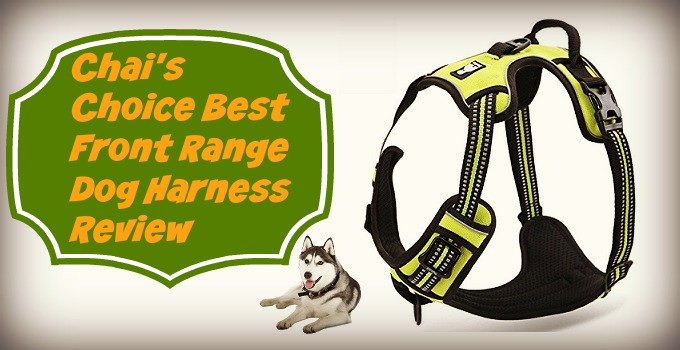 Overview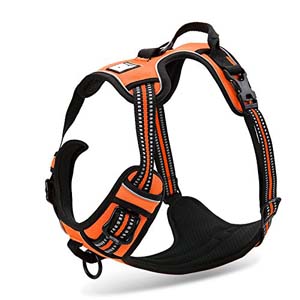 If you are looking for a no-pull husky harness that will keep your husky in line while out for a walk, then look no further. Chai's Choice Best Front Range Dog Harness is a hard wearing everyday harness suitable for a powerful breed of dog.  The outer layer is made to be pull and scratch resistant, and the Duraflex buckle has a large loading capacity. The main vest buckles are very strong and have clearly been designed to cope with powerfully built dogs like huskies with their high tensile strength. This harness also has your dog's comfort in mind sporting flexible mesh and padding in the stomach and chest area of the vest.
Best husky harness I've ever owned
Two rings handle the primary connections to the dog leash. An O-ring and a D-ring. The chest located O-ring is made of a zinc alloy and the D-ring is on the back of the harness. Also, there is a seat belt attachment so you can secure your pooch in a car seat while on the go.
This harness sports well over 1500 customer reviews as of writing, and they are overwhelmingly positive that should give you much peace of mind before buying. Some customers have stated that their dogs were notorious leash-pullers until they tried them in this harness and they were amazed at the positive difference. Others have reported that their dogs were unsettled at the prospect of being fitted with a harness, but the Chai's Choice made them feel at ease.
Sizes
| Harness Size | Fits Chest Size (Inches) |
| --- | --- |
| X-Small | 13-17" |
| Small | 17-22" |
| Medium | 22-27" |
| Large | 27-32" |
| X-Large | 32-42" |
Key Feature
Quick Summary
Pros
Durable, Stylish & Scratch Resistant
Lots of sizes available
Comfortable Lightweight Mesh Lining
Cons (Really Struggling to Find Some)
No leash included
Some customer reports of miss-fitting
Only three colors to choose from
A great husky harness if you wish you simply walk your energetic dog and discourage them from trying to pull away from you.
Conclusion
We hope this article was of use to you husky owners out there and you have a good idea at least of what kind of husky harness you need and hopefully you already know what product you will purchase. Please feel free to comment below with suggestions on how we could improve, and some other dog harnesses that you think are superior if you prioritize value for money and quality! Of course, we always welcome funny husky tales and tips as well.

References
1. http://www.dog-harnesses-store.com/
2. https://www.amazon.com/