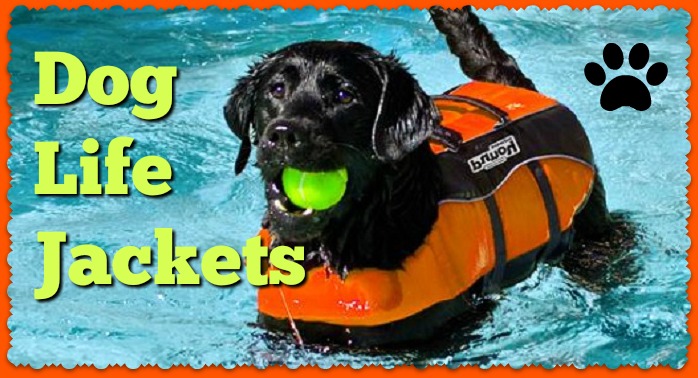 For maximum peace of mind when taking your dog out for water activities, you should invest in a dog life jacket for sure! Most dogs are good enthusiastic swimmers but they do eventually get tired, and that is where there is potential for danger. A dog life jacket should be worn by your pooch when you are out sailing, kayaking or even just taking a stroll along the beach. We will look at a range of dog life jackets that we feel offer good value for money and present them in a useful comparison table. If you are in a rush, check out our best picks in this table below.

| Image | Model | Features | Our Rating | Price |
| --- | --- | --- | --- | --- |
| | Ruffwear K9 Float Coat | Permanently attached with telescoping neck closure. Inspires confidence with abrasion resistant materials. Gives a natural swimming position with strategically placed foam panels. Check Prices | | $$$ |
| | Outward Hound Ripstop Life Jacket | Adjustable Side Buckles give a perfect fit. Easy rescue to your pet via 2 grab handles. Float support keeps your pets head above water. Check Prices | | $$ |
| | Paws Aboard Designer Life Jacket | Beautiful designer unique colorful designs. Quick release buckles & adjustable nylon straps. Maximum visibility with reflective stripes. Check Prices | | $$ |
Introduction – Why do dogs need life jackets?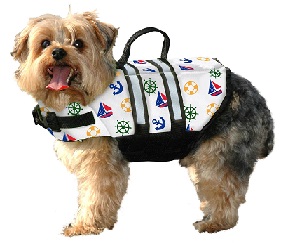 People often make a mistake in assuming that all dogs are excellent swimmers. Alas, they are not always correct, it greatly depends on the breed. All breeds of dog have physical attributes and disadvantages and that being the case, some are weak swimmers. Dogs like French bulldogs or other brachycephalic breeds like Boston Terriers and Pugs are not great swimmers.
Looking a Pugs body from a swimmer's point of view, you can easily see why. Their small compact bodies concentrate a heavy load onto the water, and their rather short limbs do little to keep them afloat. They will also tire easily and quickly.
Breeds such as the Poodle, Irish setter or Retrievers have larger bodies and limbs tend to fare much better in the water. For maximum peace of mind and safety, we recommend all dogs are fitted with a doggy life jacket that fits well. Elderly dogs or dogs with mobility issues are also more at risk of drowning.
Bottom Line – Even if you believe your dog is great at swimming, you should always fit them with a life jacket. As with humans, accidents can happen in the open water, and your pooch will be much safer with a lifejacket as an insurance policy on the water. Not only do doggy life jackets keep your dog from drowning but they make your pooch a lot more visible on the open water. This helps prevents you from losing sight of them.
Dogs & Swimming – Some Tips
In the USA we are surrounded by water, and it is highly likely that our dogs will encounter the beach, a swimming pool or a river, at some stage in their lives. As dog owners we often take it for granted that our pooches instinctively know how to swim, hence the phrase 'doggie paddle', however, this is not the case. Just like us, dogs need to learn how to swim to become confident swimmers and to be safe in the water.

What makes a good life jacket for dogs?
First and foremost you must get the right fitting life jacket for your dog. A poorly fitting life jacket will either be too tight for them and cause discomfort. Poorly fitting life jackets can also cause distress, and your dog will wiggle out of it making it practically useless. Dog life jackets come in a range of sizes designed to suit your particular breed of dog so it is important to get the right one that will fit them comfortable. There is a significant danger in attempting to fit a life jacket that is too large or too small for your pet. A small one would constrict their moment that is especially dangerous in water and one that is too large would be easy for them to wiggle out.
Handles exist to make it easy for you to pull your pooch out of the water if the need arise. They also make useful connection points to attach a leash. Dedicated 'Water Leashes" are built from a hardier rope that can maintain their strength after becoming soaked and drying out over an extended period of time. They fit in well with boating activities with handles that can be looped over boat deck fittings.
Size & Fitting – The most important aspect of the life jacket. Your dog should be comfortable and able to lie down, sit and go to the toilet without any hindrance. On the other hand, the life jacket should be a snug fit without any room to wiggle out of it.
Brightly Colored – Brightly colored life jackets make your dog visible even from a distance. This helps you to keep an eye on them and make sure they are safe. Most jackets are made from bright colors and feature reflective stripes for maximum visibility.
Buoyancy – It goes without saying, the life jacket should be buoyant in water! Life jackets tend to be buoyant enough for even the heaviest of dog, but testing them out under supervision is a prudent measure. Doggy life jackets tend to have the flotation panels underneath the belly and/or the sides, the back and around the head.
Handles – They are necessary for pulling your pet out of the water. Handles need to be sturdy and well stitched to the jacket.
Our Top Dog Life Jacket Picks
We have looked at a wide variety of dog life jackets ranging from designer ones to budget choices. We have chosen the best ones and featured them in our comparison table. When looking at these life jackets, we have taken account of their price range, features, average customer reviews and come to a conclusion based on all of these factors.
Ruffwear K9 Float Coat Dog Life Jacket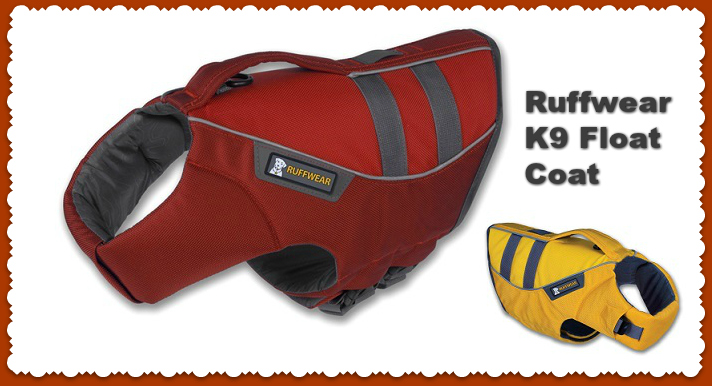 Overview
The standard has well and truly been established by the Ruffwear K9 Float Coat. It is a fantastic life jacket for your dog, and it sports over 500 customer reviews that are overwhelmingly five stars making this the most highly rated dog life jacket available on the internet.
The Ruffwear K9 is the ultimate canine accessory to keep your pooch afloat in the water. It is ideal for those that love to take their dog's boating, surfing, kayaking and paddle boarding. It is also for those that go for walks along the riverside with their elderly or physically disabled dog.
Stop wasting money on cheap doggie life jackets and just buy this!
The telescoping neck is fully adjustable for different dog sizes and makes sure the life jacket is firmly secure around your dog. This style of design makes the jacket very resilient and gives little room for error. Slip the jacket over your dogs head, tighten the straps up around the neck and the belly and you are ready to go! All of the straps have easy clipping buckles that keep things firmly in place; there are even little holes to slip the ends of the straps into to keep things neat, tidy and unable to snag on anything in the water. The jacket has a low profile but has a sturdy handle that is positioned optimally on the dogs back that are ideal for pulling dogs out of the water.
The quality of the abrasion resistant material is second to none and is constructed to a premium standard that will stand the test of time. The K9 comes in a variety of different sizes to suit dogs of all shapes and sizes and has the option of two colors – Red and Yellow. Both colors feature low-light visibility with reflective trim added
Sizes & Fitting
Quick Summary
Pros
Telescopic Neck
Extra Flotation Panels
Reflective Trim
Cons
Pricey
Only 2 colors to choose from
A few reports of snagging
Our top pick for excellent reasons. It is well made and built to the highest standards. It is a simple, bulletproof design that performs well at keeping your pet afloat but also has nice features like telescopic neck and reflective trim to make it a great overall dog life jacket suitable for a broad range of water activities.
---
Outward Hound Ripstop Adjustable Dog Life Jacket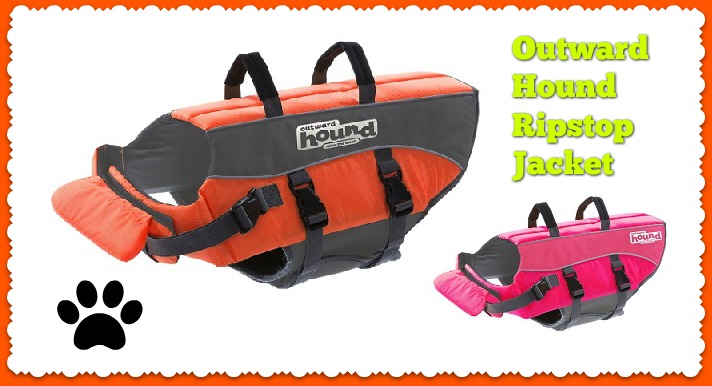 Overview
If you want a pink life jacket for your dog, then this is for you! The Ripstop jacket has been produced to keep your dog safe and secure while in the water or around it, and it boasts a hell of a lot of 5-star reviews from customers that have already purchased and used it.  No matter if you want to take your dog swimming or for some water activities or you just want that little extra peace of mind while out walking near water, this life vest will serve you well. The materials used to construct this life jacket is second to none. They are high quality and durable that will surely last for many years of use. This statement has been backed up by hundreds of customer reviews found online.

Brilliant! I have ordered 2 with confidence
As with most doggie life jackets today – This vest comes in a range of different sizes, from Extra Small to Extra Large. This will allow you to choose the one that will best fit your breed of dog. Outward Hound has taken into consideration that breeds of dog not only vary in size but in shape. There buckles aplenty to ensure a tight snug fit
not restricting movement
no matter what shape your pooch is.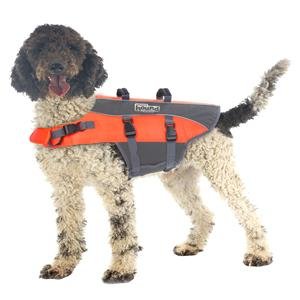 The life jacket as been designed to wrap itself around the dog's natural shape without becoming cumbersome for them while they move, swim and go to the toilet. The belly strap is made of neoprene and is sufficiently flexible but provides a comfortable but secure hold on the pooch.
If your dog has difficulty keeping their head above the water, then they will benefit from the first flotation device included in the life vest construction. This is fantastic for dogs that are not naturally great at swimming or if they are elderly or physically disabled.
What separates this life jacket is the dual handle straps that give you extra leverage when pulling your pet out of the water. We recommend you primarily use the rear handle as using the front handle alone could accidentally dunk your dogs head in the water.
Sizes & Fitting
The Outward Hound Ripstop Jacket comes in a range of sizes to accommodate a wide variety of size and shape of the dog.

Quick Summary
Pros
Excellent Value
Head Floation Support
Two Handles
Cons
A few reports of the material snagging
Not as hard wearing as others
Velcro patches might be too weak to secure the dog
Not as expensive as our top pick but still represents top quality and will suit a high percentage of dog owners. Exceptional for those with pets that struggle to keep their heads above water and the dual handles make it unique among the competition.
---
Paws Aboard Double Designer Doggy Life Jacket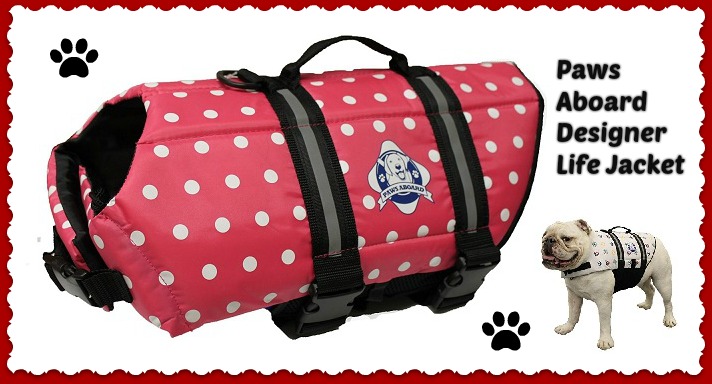 Overview
Paws Abroad is a well-regarded provider of fun and safe supplies for dog owners that take their pets out and about. The Designer life jacket is no exception. This doggy life jacket is both stylish and functional and will satisfy the most fashion conscious dog owner! The Paws abroad designer life-jackets are affordable, cute and safe for your pet and represent a fantastic buy for anyone wishing to keep their dog from drowning in water.

Gorgeous looking design – I love taking Millie out in it!
These life jackets are designed to be fashionable and durable, and they sport features that other jackets do not have. Maximum visibility is achieved with reflective strips, and their overall designs tend to be from brightly colored fabrics. They also feature innovative breathable mesh on the underbelly that helps your dog to dry and drain when out of the water. Other vests made from neoprene, without breathable mesh, have been reported to have caused chafing and heat exhaustion.
On the top of the life-jacket is a handle to make it easy to pull your pooch out of the water and the heavy duty Velcro fastening and quick release buckles make it easy to fit this jacket to your dog and keep them secure.


The Designer Doggy Jacket has some different colorful designs to choose from giving you ample options to match it to your dog's personality or gender.

Sizes & Fitting
Quick Summary
Pros
Beautiful & Cute Designs
Breathable Mesh
Quick Release Buckles
Cons
Only 1 Handle
Not as hard wearing as others
Some reports of miss-fitting sizes
A lovely range of doggy life jackets with unique, cute colorful designs. Not just a fashion accessory, though – this life jacket is functional and will keep your beloved pet afloat in water. Its standout feature is the head flotation – ideal for those dogs that struggle to keep their heads above the water while swimming.
Conclusion
We hope this guide was useful to you in your quest to find the best dog life jacket! Our dogs mean so much to us and are a part of our family. The cost of a life jacket is nothing if it means keeping them from drowning. If you have any comments or questions, please use the comments form below. We also welcome fun doggy tales and exciting experiences as well!
References
1. http://www.ruffwear.com/K9-float-coat
2. https://www.fidopetproducts.com/