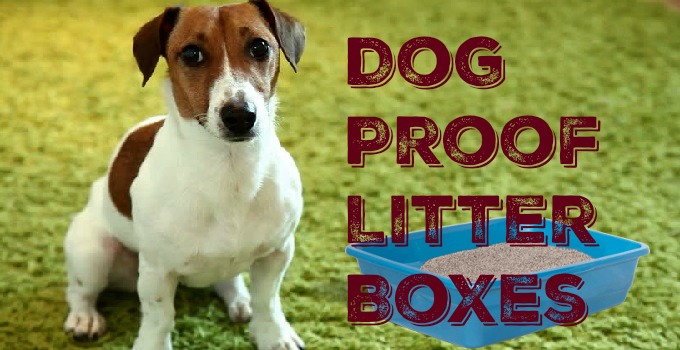 Welcome to the best dog proof litter box guide. This is the perfect resource for those with dogs that that embarrassing and gross habit – Eating from the cat's litter box. With lots of options available regarding pooch-proof cat litter boxes, it can be a stressful and confusing time choosing the right one for you and your dog.
This guide is aimed at dog and cat owners that are sick and tired of their dog eating from the cat's litter box. We will look at a range of cat litter boxes that can be accessed by a cat, but cannot by a dog. We will also suggest some other ideas and DIY methods prevent this behavior. If you are in a rush, check out our top picks in this helpful comparison table below.
$$$ Premium | $$ Midrange | $ Budget

Introduction
If you have dogs and cats living in the same household, you might have caught your dog eating cat poop from their litter box. This is rather disgusting and might gross you out, but there is a logical reason behind this behavior. Cats typically do not digest and absorb all of their dietary protein from their cat food; therefore, their faces tend to have a high protein content. This mean that their excrement has nutritional value that dogs recognize. This behavior is known as coprophagia. This is unhealthy for your pet and should be prevented and discouraged. A dog is prone to picking up parasites such as whipworm, roundworm, coccidia and giardia if this behavior persists and if you suspect this, you should take your dog to the vet to prescribe deworming medication. There are many different causes for this behavior.
Causes
This behavior could be genetically programmed or even inherited. Canines in the wild like wolves and coyotes will often scavenge the waste from other animals if they cannot hunt prey. This is a way they can get some vitamins and minerals. Having a cat with a litter box in your house might reawaken this instinct in your dog even if they are getting plenty of food.
This behavior could also be inherited from their mother. When a dog is nursing her pups, she often licks them to stimulate their bowels and bladders before eventually eating their waste. This keeps their environment clean and hygienic. Pups could witness this behavior by their mother and copy it.
Some dogs might indulge in cat poop because of stress or boredom.
Dogs have fewer taste buds than us humans and therefore are less likely to find things to be disgusting to eat.
Why you should keep your dog out of the litter box
It is bad for your dog's health. Cat poop can contain parasites such as roundworm, coccidia, and whipworm. If your dog contracts these, they will need veterinary treatment.
It is unhygienic for humans also. If your dog is eating cat poop, they are surely spreading bacteria and germs around the house to people.
This behavior can be very unsettling to your cat. Cats can be put off from using their litter tray if the dog is invading their personal toilet time all the time. Many cats suffer from 'stage fright' when going to the litter.
Solving This Yucky Problem
There are a few different ways you can approach your dogs poop eating habits.
Move the Litter Box
Place the cat's litter tray or box in a place where the dog cannot access it. Another approach is to confine your dog away from the room in which the litter tray is in. This is, of course, dependent on housing circumstances and whether you can limit an area from a dog but not restrict the cat at the same time.
Train The Dog
As previously mentioned – This behavior could be down to malnutrition, stress, boredom or an inherited behavior. You could investigate what could be causing it and work to resolve it. You could consider crating your dog as it is a useful tool for house training as well as providing your pet with a den to relax in.
Invest in a Dog Proof Litter Box
Getting a dog proof litter box is the best option for keeping your dog out of the cat litter. There are loads on the market each with their own advantages and features. Of course, they range from budget litter trays to more superior ones.
Many of these litter boxes could be more accurately described as dog resistant rather than dog proof, but this depends on the size of your dog. It's fairly obvious to notice that smaller dogs are closer to the scale of a cat, therefore, more likely to be able to access a litter box. But on the other hand, cats are more acrobatic and are able to jump higher than a dog.
There are two main designs of dog proof litter trays.
Top Entry
These trays are essentially litter box with 4 solid walls and an entry hole on the roof. This design makes it easy for an acrobatic cat to jump up and enter, while the less acrobatic dog would struggle to climb up. This is, of course, subject to the size of the dog – would struggle even to fit inside the hole. Some large dogs that tower over the litter box would (in theory) be able to poke their head inside the entrance. These types of litter boxes are ideal for people with small and medium size dogs.
Side Entry
The side entry designs typically consist of a litter box with a wide entrance that leads into a sub-compartment that has another staggered entrance into the main litter compartment. This means it is ideal for a slender moving cat to gain access to but the more cumbersome moving dog would struggle. Of course, this is true only for small dogs, as the larger dogs would find it impossible to gain access to the litter. These types of litter boxes are ideal for people with large dogs.
Do you need a pet proof litter box?
Owners of dogs that have eaten dog poop before
Owners of dogs that have a proven record of eating waste and rubbish
People that leave their dogs home alone during the working day and want maximum peace of mind
Owners of cats that require maximum privacy when going to the litter box
Cat Litter Box Factors to Consider
Entrance – Quite an important thing to consider which depends greatly on what size dog you have. If you have a small dog, you are best off going for a top entrance litter tray as a small breed of dog will struggle to jump up and get into the litter tray whereas a large dog could just tower above the box and poke their head down through the entrance. If you have a large dog, then the best option would be a side door as a large, cumbersome dog would be unable to enter through the first entrance due to their size. The dog would also be unable to poke their neck through the second inner opening as they are staggered on different sides of the box.
Size – The size of your dog proof litter box greatly depends on your personal preference and factors completely unrelated to the dog element to this buyer's guide. Many cats can not comfortably maneuver or fit inside most of the traditional commercial litter boxes on the market today; therefore, it is advised by DoggyToggery always to opt on with a large size to play it safe. If you have an elderly cat, it is also important to give them a large litter environment as arthritis makes it difficult for them to move in and out of the litter box entrance. The litter area should be big enough for cats to get inside, maneuver around, do their poop business and dig a hole to cover it up.
Comparison Table
We have researched a wide variety of dog proof litter boxes available online and picked out those that most would consider "dog proof." We have assembled them into this helpful comparison table with useful data such as budget, rating, and size.

Things to avoid
Small Litter Boxes – Not ideal for cats and will discourage them from using the litter box.
Single Side Entrance. – Litter boxes with only one side entrance makes it easy for dogs to stick their head through.
Putting the box in the wrong location. – Cats need privacy when going to the toilet so you should put the litter box in a quiet area away from disruption.
Petmate Top Entry Litter Box
Overview
The Petmate Top Entry Litter Pan is a top entry litter box, and it is the budget option in our range. It features a non-slip lid which gives good security for your cat when they are jumping on the top, and the lid also features grating that allows excess litter to scatter back in when the pan is opened. This unique design helps to deter medium and small dogs from gaining access to the litter; however, larger dogs might be able to stick their head into the opening from above. There are built in handles which make moving this litter box and pouring out the dirty litter easy and convenient. Not only does this design deter dogs but it also helps protect your carpet from cat litter as cats love to dig and scrabble around in their litter boxes.

Cleo the camping kitty says it's the BEST litter box for travel!!!
Build Quality & Price
This is the budget option for a dog proof litter box, and it does a sterling job. It is made from plastic with very few moving parts. It's a pretty basic design and should last a good few years. It is made in the USA for a further reassurance of quality.
This litter box has over 400 customer reviews online, and the vast majority of them are positive.

Quick Summary
Pros
Large Opening
Simple Design
Easy Clean
Cons
Lightweight
Small Litter Box
Not Aesthetically Pleasing
Ideal for those on a budget. A simple, no-nonsense design with a large top opening to accommodate even the fattest of cats. Ideal for those with small and medium size dogs that will struggle to get on top of this litter box and gain access.
Designer Catbox Litter Box Enclosure
Overview
Now, if you want the best, then this is for you! The designer cat litter box is a fantastic option for those wanting a litter box that is stylish and looks great with your home decor and furnishings. The design of this litter box also works to prevent litter being kicked out onto the floor as well as minimize odor.
This litter box is versatile – It can fit a broad range of sizes of trays and can even accommodate an extra large tray if you do not include the interior panel. Dogs are kept out utilizing two entrances to the litter, and both access holes are staggered which gives an athletic cat an easy time when maneuvering into the main litter compartment.

Available in
Black
,
White
&
Espresso
The Designer Catbox is assembled easily and comes with easy to follow instructions. You will only need a Phillips head screwdriver.
Build Quality & Price
As expected at this price range – This litter box is made from a quality wood that is stained with an elegant wood-grain finish. It also includes storage to hide away litter scoop and other accessories. This litter box sports over 600 customer reviews with the vast majority of them being positive!

Quick Summary
Pros
Beautiful Wooden Build
Staggered Entrances
Storage Compartment
Cons
Pricey for a Litter Box
Not Dog Proof for Small Breeds
Wood Vulnerable to Urine
An attractive premium cat litter boy that is dog proof if you have a medium or larger breed. Comes in a range of three colors to give you some good options to match your home decor.
Favorite Hooded Top Entry Box
Overview
The Favorite Top Entry Litter Box is an excellent way to keep mess and litter inside the box where it should be. This litter box is a super roomy unit that will undoubtedly allow the fattest of cat to be comfortable inside. The top entry design of this box keeps mess on your floor to a minimum and more importantly, keeps your pooch out of the kitty litter. This unit is very easy to assemble and disassemble and can be used without the lid for households without dogs. The top can be easily slotted into the base for easy and convenient storage.
This litter box comes in White, Black & White and Transparent & Blue
Build Quality & Price
Made from high-quality plastic and is such a simple design that you will very unlikely encounter any wear and tear or breakage. The litter box is in the Budget category and is a cost-effective way of keeping your pooch out of the cat litter.
The Favorite litter box sports over 200 customer reviews with the vast majority of them being positive giving you maximum peace of mind.
Quick Summary
Pros
Simple Design
Easy to Store
3 Different Colors
Cons
Lightweight
Not The Prettiest Litter Box
Lacks Storage Compartment
A great top entrance litter box made with sturdy plastic and will surely last a long time. Comes in a range of colors including transparent giving your cat some light during their toilet time.
Recommended Book
A great book to read if you want to find out more about dog behavior, communication and control is "Cesar's Way: The Natural, Everyday Guide to Understanding." It is a fact-filled resource filled with everything you will surely need to know relating to dog behavior and correcting behavioral problems.The 1300+ customer reviews are overwhelmingly positive.
Conclusion
Hopefully, this article has helped you in your quest for a dog proof litter box! Sometimes your dog just cannot resist the 'treats' left by the cat in their litter. This is a common problem amongst owners of both pets so it stands to reason there is quite a demand for litter boxes that deter dogs.
Before you purchase a dog proof trash can, you should shop carefully and pay attention to a broad range of reviews available online to make a fair comparison. If you have any comments or suggestions, please feel free to add them below. Please also share any funny cat litter box can-related stories you may have as well!
References
1. http://www.simplehuman.com/
2. http://www.wikihow.com/Dog-Proof-Your-Trash-Can/