Welcome to the ultimate guide to Indestructible, Escape Proof, Heavy Duty crates for dogs! We aim to help you find the best crate to keep your Houdini dog secure and unable to escape.
There is a great variety of dog crates on the market today that are sold as strong, unbreakable and heavy duty so it can be quite confusing and stressful finding the right one that will prove inescapable for your dog.
If you are in a rush, check out our best picks in this table below.
The Best Heavy Duty Crates for Dogs
$$$ Premium | $$ Midrange | $ Budget

Image
Model
Features
Our Rating
Price
Impact Case Stationary Dog Crate
The BEST Escape Proof Crate. Made with high quality aluminum.
Available in: Tan Desert Gray Purple Red Blue


Check Prices

$$$$
ProSelect Empire Cage
Strong Steel Build. Designed specifically for powerful dogs. Rust-resistant and durable.


Check Prices

$$$
Zinger Winger DX5000
Light and Strong. Made from aircraft-grade lightweight aluminum. Excellent Ventilation.


Check Prices

$$$$
SmithBuilt Heavy Duty Crate
Made of Steel. 2 slide-bolt latches. Floor Grate and Steel Tray.


Check Prices

$
Impact Case Collapsible Crate
Portable & Very Strong. Made with high quality aluminum. Fully Collapsable to less than 8Inches.


Check Prices

$$$$
This
article is aimed at you
, the dog owner seeking to purchase a heavy duty dog crate that will
withstand even the strongest dog
that is capable of destroying the
standard crate
. We will look at a range of dog crates that fit the description '
escape proof
' and present them in a useful
comparison table
.
We will focus primarily on indoor and travelling dog cages (or crates) and helping you to choose the best crate for an escape artist dog. We will cover heavy duty dog kennels in another article.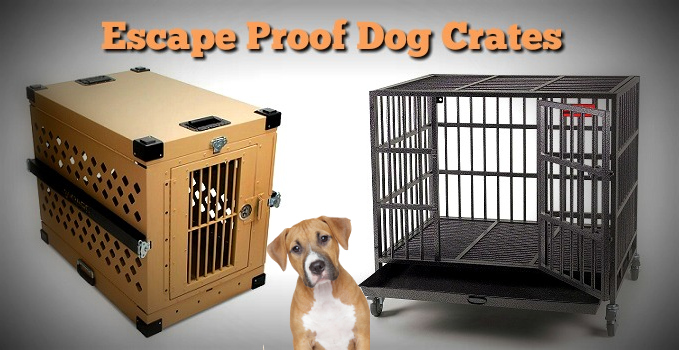 Introduction to Heavy Duty Dog Crates & Kennels / The Best Dog Crates for Escape Artists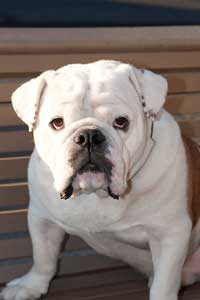 There is a high chance that you have an escape artist Houdini dog if you are here reading this! It is just a fact of dog ownership that some breeds are incredibly powerful animals which can use their strong jaws to destroy anything that gets in their way.
When it comes to dog crates – Even the smallest and weakest breed of dog can find a weak point to exploit. This applies, particularly to the cheaper and less well-made dog crates. The likelihood of your dog escaping increases as time passes left in the crate unsupervised. Bored dogs have only one thing on their mind – Escape.
Many people will be reading this because they are looking for dog crates for Pitbulls which are indeed extremely powerful pooches. You will need a good gorilla-tough dog crate to keep them under control. Physical strength is only one aspect of a dogs escape ability! Pooches are intelligent animals and will work relentlessly to find a weak spot and exploit it.
If your dog is particularly aggressive or dominant and they will not sit quietly, then a heavy duty crate is for you. Perhaps your pooch has already destroyed a dog crate and now you need something more robust that will withstand scratching, biting and gnawing.
Why Crate your Dog? / Is it a good thing?
Dogs have a natural instinct to have a den enclosure and owners can satisfy these needs by providing them with a crate. Crates are also practical training and housebreaking tool because dogs are naturally averse to soiling in their den. Extra-strong crates can be used to prevent dogs and puppies from destroying their surroundings and chewing furniture.
Crates are also a necessity when taking your dog on planes – They serve as a travel box for dogs and airlines have regulations relating to dog crates for security in the hold. Crates are also useful as the few hotels that can accept dogs do so on the basis that the dog is kept in a crate. This prevents damage to the hotel carpets and furnishings.
We at DoggyToggery recommend you provide a crate for your pooch from a puppy to adulthood. Some crates have removable doors which are useful when you have fully housebroken your pet, and the dog crate transforms into a den hideaway for them, somewhere they can feel safe and comfortable.
Why you should invest in an escape proof crate
If you have a strong, powerful breed of dog capable of destruction.
If you crate your dog overnight or extended periods of time.
If you fly your dog – Airlines require very sturdy containers to contain the animal in the airplane storage.
Understanding How Dogs Usually Escape Crates, Kennels & Cages
Brute Force
The simplest and probably most common way is brute force. Do not make a mistake in believing only big dominant dogs and use this method. If there is a point of weakness in your crate – any size dog can exploit it with some force. One of the most common ways dog's brute their way to escape is by using their heads to force the bars apart. Cheaply made crates and flimsy metal are susceptible to this.
Brute force may be used in combo with other techniques to escape. Owners need to remember that dogs have nothing but energy, drive and time. Expect your pooch always to want to escape captivity.
Latch Manipulation
This method is favored by the smarter pooches who don't have the strength to brute force their escape. The dog will play with the latch using their nose or paws until it is unlocked. Perseverance is vital for the dog in this regard, first attempts at manipulating the lock may seem clumsy and without purpose, but smart dogs soon learn what works and what does not.
Connector & Weak Spot Chewing
This method only applies to a common type of wire dog crate. They comprise of wire sides connected with (usually) flimsy metal connectors. Flimsy connectors are merely pulled off and chewed by dogs resulting in an open crate.

Desirable Features in an Escape Proof / Heavy Duty Crate
If you are here, then you have an escape artist pooch, and you are thinking about a heavy duty dog crate to ease your mind. Heavy duty crates have been designed for escape artist dogs.
It is 2018, and there are many crates/cages on the market that are labeled as "heavy duty" & "Escape Proof" that do not live up to their name. Proper escape proof crates have some features that set them apart from the standard crate.
The most secure crates have solid walls. Crate walls come in a variety of designs, from metal wire to tubular steel. The most secure kennels have solid walls with ventilation holes, they offer maximum structural strength and peace of mind.
Crate Must-Have Features
Escape proof crates should be made from metal. Not plastic or wood, but sturdy metal. The budget will dictate whether you will have heavy steel or more expensive, but that will depend on whether you want portability.
Removable Pans and wheels are very convenient to clean and move and still maintain high strength. Crates with wheels are very handy if you like to transport the dog crate around the different areas of the house or outside. Toilet accidents or spillage can be cleaned up easily with removable pans.
Latches & Locks should be out of reach from your dog. Simple barrel locks are quickly figured out by smart pooches so you will want to choose a crate that has a more complex mechanism and if possible – out of reach from exploring paws. Slam latches are very popular, and they come into place when the crate door is slammed shut.
Good crates will be secure and ventilated. Our believed pets comfort and well-being will always come first, and we cannot compromise on this fact; however, there are plenty of good heavy duty crates that are both strong and comfortable. Dog crates with poor ventilation can encourage dampness, bacterial growth and become smelly quickly.
Thwarting Escape Artist Dogs – Tips & Tricks
Consider using metal hardware such as carabineers to reinforce crate seams and other weak points. Choose high-quality devices made from metal and do not apply easily chewable things such as rope, duct tape or zip ties. Usually high-quality metal is chew proof. If in doubt, perhaps double up and use two on each weak point.
Place the crate somewhere 'scenic' & interesting. It may be beneficial and relaxing for your dog to have something interesting to look at while in the kennel. You could experiment by placing the enclosure near a window so your pet can watch the world pass. The opposite may be beneficial and distractions such as cats and people walking by may get him overly excited and needing to escape.
Observe your dog and see what escape methods he is using to get out of the crate. When you find out the exact way your pooch is employing to break free, then you can work to rectify the problem. You may need to hide behind something or use a camera device because most dogs will wait until they are free from your company before making an attempting escape.
Distract your pooch with a favorite toy and keep his thoughts from escape attempts. Your beloved pet is prone to boredom when caged away in a small space. Ease his mind with a favorite toy but make sure it is safe to leave unattended with him.
Cage your dog after a long exercise session. A physically drained and exhausted dog will be less likely to want to escape. Ensure your dog is tired and hopefully, will want to rest and sleep when in the crate.
Further Heavy Duty Crate & Kennel Considerations
The first thing you will need to know before venturing into buying a dog crate is which size you should go for.
Of course, this depends on your dog. We have provided with a dog crate size guide below to give you a good idea of what you will need. A golden rule to follow is – If in doubt, go slightly larger than what you think you will need, and of course puppy owners should get a crate that will last into adulthood.
Heavy Duty Crate Size Guide – Getting the correct size of solid metal dog crate for your dog
It is important that you get the correct size of crate for your dog. The most important thing is the dog's size rather than the weight. Your dog should be housed in a dog crate that is at least 6 inches longer than the length of their body, and more than 6 inches higher than their shoulder height.
Adhere to these specifications, and your pet will be comfortable and happy. Use this table below to find the correct floor space for your breed of dog.

Crate Size (Inches)
Breed
18" - 22" (45 - 56cm)
Aftenpinscher, Brussels Griffon, Chihuahua, Japanese Chin, Maltese, Papillon, Pomeranian, Russian Toy, Toy Fox Terrier, Yorkshire
24" (61cm)
Australian Terrier, Bichon Frise, Border Terrier, Boston, Terrier, Chinese Crested, Fox Terrier, Havanese, Jack Russell, Terrier, Italian Greyhound, Manchester Terrier, Miniature Dachshund, Miniature Poodle, Norfolk Terrier, Norwich Terrier, Parson Russell Terrier, Pug, Schnauzer, Shih Tzu, Silky Terrier, Skye Terrier, Tibetan Spaniel, Terrier, Toy Poodle, Wirehaired Fox Terrier
30" (76cm)
American Pit Bull Terrier, American Staffordshire Terrier, American Water Spaniel, Basenji, Bedlington Terrier, Cairn, Terrier, Cardigan Welsh Corgi, Clumber Spaniel, Dachshund, French Bulldog, German Pinscher, Irish Terrier, King Charles, Spaniel, Lhasa Apso, Miniature Pinscher, Miniature, Schnauzer, Pekingese, Scottish Terrier, Shetland Sheepdog, Staffordshire Terrier, Tibetan Terrier, Welsh Springer, Spaniel, Welsh Terrier, West Highland Terrier
36" (91cm)
American Eskimo
Australian Cattle Dog, Basset Hound, Beagle, Brittany, Spaniel, Bull Terrier, Bulldog, Chinese Shar-Pei, Cocker, Spaniel, English Setter, English Springer Spaniel, Finnish, Spitz, Harrier, Keeshond, Kerry Blue Terrier, Norwegian, Elkhound, Portuguese Water Dog, Soft Coated Wheaten Terrier, Standard Schnauzer, Welsh Corgi, Whippet
42" (107cm)
Airedale Terrier, American Bulldog, Australian Shepherd, Bearded Collie, Belgain Malinois, Belgian Sheepdog, Belgian, Tervuren, Border Collie, Boxer, Chesapeake Bay Retriever, Chow-Chow, Dalmatian, Golden Retriever, Gordon Setter, Ibizan Hound, Irish Setter, Irish Water Spaniel, Labrador, Retriever, Rhodesian Ridgeback, Saluki, Poodle (Standard), Vizsla
48" (122cm)
Afghan, Akita, Alaskan Malamute, Anatolian Shepherd, Bernese, Mountain Dog, Bloodhound, Bouvier Des Flandres, Briard, Bullmastiff, Chinook, Collie, Doberman Pinscher, Dogue De Bordeaux, German Shepherd, Giant Schnauzer, Greyhound, Komondor, Kuvasz, Malinois, Newfoundland, Old, English Sheepdog, Otterhound, Pointer, Rottweiler, Samoyed, Siberian Husky, Tervueren, Weimaraner
54" (137cm)
Borzoi, Great Dane, Great Pyrenees, Irish Wolfhound, Leonberger, Mastiff, Neapolitan Mastiff, Scottish Deerhound, St. Bernard
Portability & Build Quality When Considering Heavy Duty Dog Crates
The next major consideration when choosing a heavy duty crate is portability. Will you be using the dog crate primarily at home – As a part of the furniture, or will you be using it to transport your dog on a camping trip? There are a few dog crates on the market today that is both heavy duty and collapsible making them ideal travel crates. If you are opting for a travel crate, then the best build material will be wood or aluminum for both strength and portability whereas a home crate is best made out of steel for maximum strength and value for money.
Build quality is crucial as poorly made crates can allow a dog to escape and are also capable of injuring your pet. When crate shopping it is important to look at the weld quality as this is where poorly made crates start to break.
Heavy Duty Crates & Kennels to avoid if you have a troublesome dog
Wooden Dog Crates – Great for dogs that are not prone to chewing or escape but not so ideal for escape artists!
Crates with multiple entrances. – More doors mean more weak points to exploit.
Small Crates. – Putting your dog in cramped conditions will make them attempt to escape.
Our Heavy Duty Crate Picks
We have selected a few crates that meet all the requirements that a heavy duty dog cage should while offering excellent value for money. Our selections range from budget & mid-range to premium. We have presented our top picks in a helpful comparison table below to show you the budget, features, and our star rating.

Impact Case Stationary Dog Crate – Extremely Heavy Duty and Very Escape Proof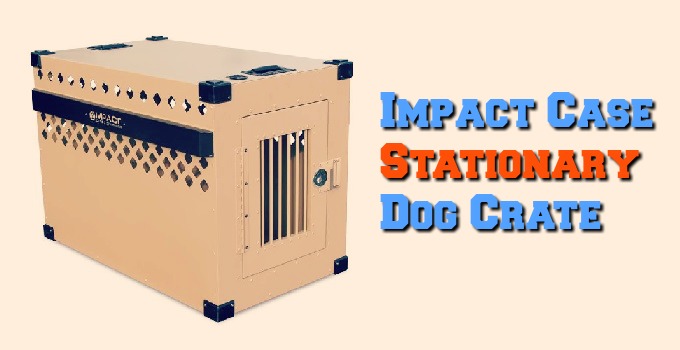 Overview
If you want the very best escape proof crate with no exceptions, then this impact dog crate is it. The Impact Case Stationary represents the ultimate indestructible dog crate. Made in the USA from high quality and durable .063 aluminum makes this crate incredibly strong as well as being lightweight and easy to move. This crate is corrosion resistant and will last a great many years making it a sound investment. This is especially important considering dogs can live for up to 2 decades. IATA compliant for airline travel!
If you are looking for an escape-proof travel crate that is collapsible, with almost the same strength then the Impact Case Collapsible crate is for you.
The crate features 3/8 Inch round welded-bars with a cross bar to offer maximum inescapable stability. These bars give the crate the impact protection that makes it so heavy duty. The crate is lockable via a marine grade hardware latch that provides ultimate security. The locking latch locks into place automatically to provide hassle-free security.
Features
Composite Corners
Stackable
IATA Compliant
Easy to Carry Handles
Powder Coated Inside and Out
Sizes
The Impact Case Stationary is available in many sizes to suit a broad range of dog breeds.

| Size | Exterior Dimensions | Interior Dimensions | Weight |
| --- | --- | --- | --- |
| XX-Large | 41"L x 33.5"W X 26"H | 42LX34TX25.5W | 52 LBS |
| X-Large | 41"L x 25"W x 29"H | 40"L x 22"W x 28"H | 45 LBS |
| Large | 35"L x 25"W x 29"H | 34"L x 22"W x 28"H | 41 LBS |
| Medium | 31.25"L X 22.5"W X 25.5"H | 30"L x 20"W x 25"H | 37.4 LBS |
| Small | 21"L x 16"W x 15"H | 27"L x 20"W x 19"H | 19.4 LBS |
Quick Summary
Pros
Super Strong
Lightweight
Available in Many Sizes & Colors
Cons
Pricey
Looks Intimidating
Non-Collapsible
If you want premium quality, then this is it. The Impact Case Stationary is a fantastic lightweight, strong dog crate that is virtually escape proof. It is also ideal as a travel crate being
IATA compliant
. A real
heavy duty dog crate
.
---
Impact Case Collapsible Dog Crate – Portability and Extremely Heavy Duty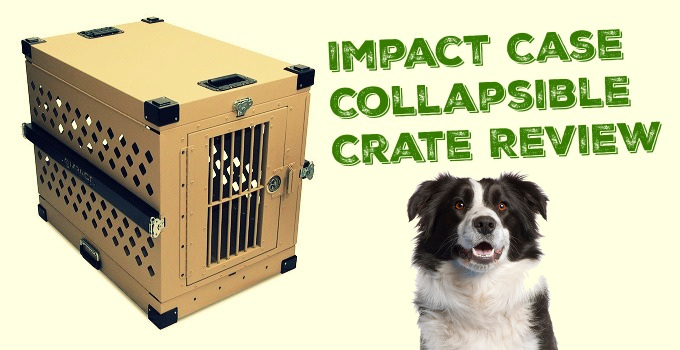 Overview
As with anything, the best comes at a price, and the Impact Case Collapsible dog crate is no exception! This is a real escape proof dog crate made with absolute precision from quality .063 aluminum which makes it 20% lighter (41lbs) than other dog crates in this category. The strength of the aluminum is complimented with very sturdy rivets. Being made of aluminum makes it also corrosion resistant giving it a longevity that is important when spending this kind of money on a dog crate.
If you do not need portability and are looking for a maximum-security escape-proof crate then the Impact Case Stationary crate is for you.
As well as being escape-proof, the Impact Case is also fully collapsible. When broken down it measures less than 8 inches in height – Ideal for storage when not in use. It is evident that security is the key design focus as it has an industrial style about it with 3/8 inch round bars that give the cage stability. This crate is also built for pet safety and comfort – The paint is a gray powder that deflects heat, and there are plenty of holes and openings that allow good airflow.

Stop wasting money on cheap crates and just buy this.
Full Impact Case Collapsible Dog Crate Review
Sizes
The Impact Case Collapsible is available in many sizes to suit a broad range of dog breeds.

| Size | Exterior Dimensions | Interior Dimensions | Weight |
| --- | --- | --- | --- |
| X-Large | 41"L x 25"W x 29"H | 40"L x 22"W x 28"H | 47.00 LBS |
| Large | 35"L x 25"W x 29"H | 34"L x 22"W x 28"H | 43.00 LBS |
| Medium | 31"L x 22"W x 23"H | 30"L x 19"W x 22"H | 39.00 LBS |
Quick Summary
Pros
Strong Dog Crate
Lightweight
Collapsable
Cons
Pricey
Looks Intimidating
Lacks a Size Small
If you want the best, then this is it. The Impact Case Collapsible is a fantastic lightweight, collapsible dog crate that is virtually escape proof. It is also ideal as a travel crate being IATA compliant. A real
escape proof dog crate
.
---
ProSelect Empire Dog Cage – Mid-Range Heavy Duty Cage for Dogs
Overview
The Proselect Empire Dog Cage is a durable and solidly made crate that comes in two sizes. This is a stainless steel dog crate with a side door making it very secure indeed. The stainless steel is finished that protects the steel bars from rust. This crate is designed to be indestructible from any even the strongest animal with durable steel tubing and latched double doors.

No more chewing or escaping
The Proselect is far from being portable – lacking collapsibility and being made of steel makes it quite heavy. The crate has four locking detachable casters that allow the crate to be easily moved around the floor to different areas of the house. The Proselect crate does excel at being an indestructible crate at a reasonable price compared to the collapsible & lightweight competitors.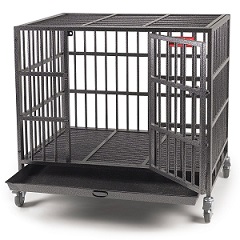 This crate is very easy to clean because of its simple construction. Take it out to the back yard and give it a hose down would clean up even the dirtiest of soiling accidents. The Proselect crate features a floor tray that is very useful for dogs prone to soiling or puppies. It is colored black, and it slides in and out easily for cleaning.
Sizes
The ProSelect Empire Dog Cage is available in a two sizes allowing owners to find the right size for their breed of dog.

| Size | Exterior Dimensions | Interior Dimensions | Weight |
| --- | --- | --- | --- |
| Medium | 37"L x 25⅛"W x 33¾"H | 35¾"L x 23½"W x 24½"H | 47 LBS |
| Large | 42¼"L x 30¾"W x 41¼"H | 40¾"L x 28⅛"W x 31¾"H | 76 LBS |
Quick Summary
Pros
Made of Strong 20 Gauge Steel
Caster Wheels Make Easy Movement
Slidable Tray
Cons
Heavy
Non-Collapsable
Food Pieces Can Fall Through The Tray
A solid dog crate to house the strongest of escape artists, however, being
made of steel
makes it quite heavy, and the lack of collapsibility means you will not be traveling with this crate. It is perfect for in the home only.
---
SmithBuilt Heavy Duty Crate – Budget Option Escape Proof Crate
Overview
On the budget end of the price range is the Smithbuilt self-proclaimed 'Heavy Duty Dog Crate.'  This industrial looking dog crate is crafted using high-quality steel to make a strong, durable crate that will prove inescapable for a dog and will last for many years. The front door is locked with two slide bolt latches, and the top opening is secured with one. There have been reports that the locking mechanism is weak and can be hugely improved with a standard padlock bought separately. Smithbuilt has made this crate fade, rust, and corrosion resistant by covering it with a multi-layer finish that is better than the powder coat paints on other brands of a dog crate.
The floor crate and tray makes this crate excellent for cleaning if you have a puppy or a dog that sometimes has soiling accidents in the crate. It is worth mentioning that the floor is also made of steel covered with a protective coating that will not rust, warp or retain nasty smells caused by toilet accidents.
This dog crate is aimed at the price conscious dog owner and it is quite a lot cheaper than the similar Proselect crate. As many customer reviews have revealed – Even though it is quite cheap, it did do the job. If you feel your dog has a mild character and is physically not very strong, this could be a good option for you.
Being made of steel this crate is quite heavy and not very mobile so it is not ideal as a travel crate. It does, however, feature locking caster wheels that make it easy to push the crate around the floor to different locations.

Locks are worthless – Use luggage locks!
Sizes
| Crate Length (Inches) | Depth (Inches) | Height (Inches) |
| --- | --- | --- |
| 36 | 24 | 29 |
| 42 | 30 | 34 |
| 48 | 33 | 37 |
Quick Summary
Pros
Made of Steel
Rust and Corrosion Resistant
Movable with Casters
Cons
Bars Not As Strong As Other Crates
Not Collapsible
Latches Need Padlocks for Maximum Security
A great option if you are on a budget and you do not have a particularly aggressive or energetic dog. Attention should be paid to other customer reviews to rectify some of the weak points of this crate such as using separate padlocks to strengthen the locking mechanisms.
---
Zinger Winger DX5000 – Lightweight & Incredibly Strong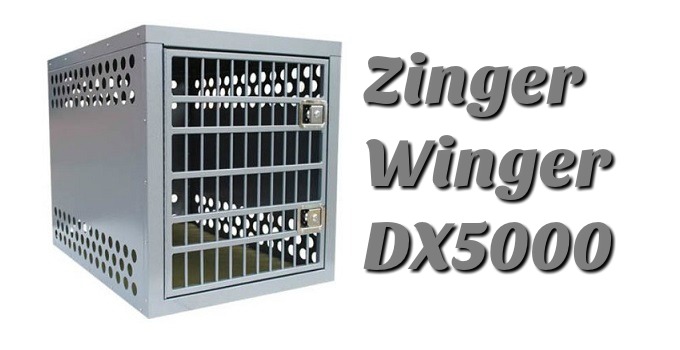 Overview
The Zinger Winger range of aluminum dog crates is lightweight and durable at the same time. They offer dog owners incredible strength at just one-third of the weight of an equivalent size steel dog crate. The aluminum is aircraft-grade, and it is well known for being robust and lightweight.
Complimenting the robust aluminum build is a door that is made of solid steel bars that have been welded to a high standard. This package of strength is sure to keep your escape artist pooch secure. The doors are connected to the body by a full-length striker plate and piano hinge. For extra security, each door features a flush-mounted slap latch allowing for a solid close.
Your dog will not want for any additional airflow with this crate –  The Zinger line of dog crates are some of the most ventilated escape proof crates on the market. Air is free to pass freely through the row of vent holes and the door. The aluminum body allows heat to dissipate easily making this crate ideal if you live in a warm climate.
Install the optional rails and the Zinger Winger becomes airline approved making it perfect for traveling. Another key travel feature you will want to take account of is the stacking capability. Indeed, this crate stacks very nicely with other crates either on top of each other or side by side.
Sizes
| Crate | Wide x High x Long (Inches) |
| --- | --- |
| Zinger Winger DX5000 | 28 x 32 x 40 |
| Zinger Winger DX3000 | 21 x 24 x 30 |
| Zinger Winger PR4000 | 24 x 28 x 36 |
| Zinger Winger DX4500 | 24 x 30 x 38 |
Quick Summary
Pros
Money-Back Guarantee if your dog escapes
Available in Multiple Sizes
Powder Coated All Over
Cons
Pricey
Lack of different colors
Lacks a Size very Small
A solid, superior quality escape proof crate. Lightweight and strong. Fully ventilated for dog health. You will need to purchase the additional rails to make it airline approved.
---
A Comfortable Mat or Bed – Making the Dog Crate a Comfortable Place
Making your dog crate comfortable and cozy for your dog will go a long way in making them unwilling to escape. Nobody wants to sit on a cold, and hard floor, and the same applies to our dogs! There is a broad variety of doggy beds available online from dog mats to luxury doggy beds. Be sure to check the floor dimensions of your dog crate to make sure that your new dog bed purchase will fit inside. Dog crate pads are dedicated aimed at dog crates, and many of them are chew proof and waterproof for obvious reasons.
MidWest Quiet Time Fashion Pet Bed
The MidWest Quiet Time Fashion Dog Bed is an ideal addition to an escape-proof crate. It is available in a range of sizes and color and comes at a reasonable price.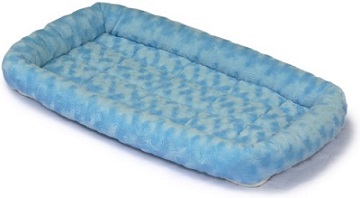 If you have a pooch that
enjoys chewing on beds and furniture
then Check out are article on 
chew proof dog beds
for more information!
---
Kong Chew Toy – Prevent Crate Boredom
Providing your crated dog with something to do will significantly decrease their chances of attempting to escape as it eases boredom and takes their mind off being confined. Kong goes one step further and has made a chew toy that can house treats. Your crated dog will smell and hear that there is a treat inside and will endeavor to get access to it.
This toy will keep your dog distracted in the first 20 minutes of being separated from you is crucial to keeping their mind at rest.
Help keep your dog busy and distracted in those crucial first 20 minutes of separation.
Conclusion
Pooch owners will go to the ends of the earth to make sure their dogs are healthy and happy, and a sturdy, indestructible dog crate is the foundation of this. You do not want your dog escaping from their crate as they perhaps might escape from your home and never be seen again. They might go on a rampage in the home destroying furniture and valuables. Dogs might even injure themselves severely in the escape attempt. This article has shown you a range of different crates at different budgets.
If you want premium features such as lightweight, collapsible and incredibly strong you do have to spend a fair amount of money for a well built and chew proof crate. This could be seen as a worthwhile investment especially as the life of your dog last many years (hopefully). If you are willing to make a few sacrifices and your dog is not exceptionally strong or aggressive then some cheaper heavy-duty dog crate alternatives will perform the same job.
References
1. http://www.wikihow.com/Crate-Train-Your-Dog-or-Puppy
2. https://www.amazon.com/