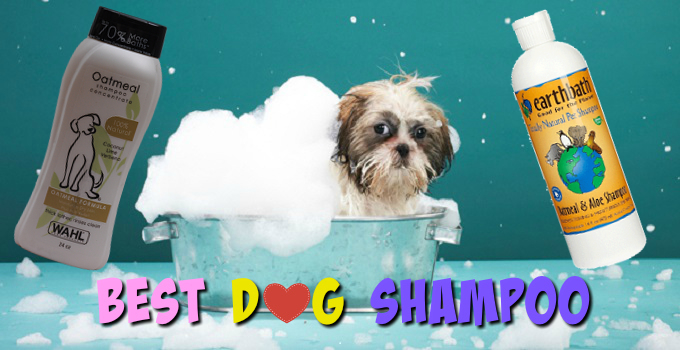 Do you need help choosing the best dog shampoo for your pooch? Do you need a hypoallergenic, anti-microbial or even a water-less shampoo? There are so many different types of dog shampoo to choose from, all with their pros and cons. If you are in a hurry – Check out our top picks in this table below.

| Image | Shampoo | Features | Our Rating | Price |
| --- | --- | --- | --- | --- |
| | Agatha's Apothecary Luxury Lather | Luxury Organic Shampoo. Organic Lavender Oil, Calming, Antibacterial, Natural Odor Remover. Money Back Guarantee! Check Prices | | $$$ |
| | OmegaPet Dog Shampoo for Itchy Skin | For Itchy Skin. Highest quality organic ingredients soothes and relieves itches. Full money-back refund within 365 days of your purchase. Check Prices | | $$ |
| | Earthbath All Natural Pet Shampoo | Totally Natural & Tearless. Safe, Effective & Gentle Soap-Free Shampoo. Avaliable in a wide variety of colors. Check Prices | | $$ |
| | Oxgord Organic Oatmeal Pet Wash | Organic Oatmeal Pet Wash. Tear free formula from non-irritating natural oils and extracts. 100% vegan and organic Pet Wash Shampoo. Check Prices | | $ |
| | Adams Plus Flea & Tick Shampoo | Kills fleas, flea eggs, flea larvae, ticks, and lice. Provides 28 days of control of adult fleas. Contains oatmeal, lanolin, soothing aloe & coconut extract. Check Prices | | $$ |
| | Nootie Cherry Blossom Shampoo | Best Smelling Shampoo. Enriched with shea oil, wheat protein, aloe Vera and vitamins. Exclusive Dirt Repel formula. Check Prices | | $$ |
| | SynergyLabs Triple Strength Shampoo | Waterless, No Rinse Foam Mousse. Natural Coconut Formula - Mild, safe and good for sensitive skin. Quick, easy and perfect for between baths. Check Prices | | $$ |
| | Wahl 100% Natural Pet Shampoo | Different formulas available. Formulated with rosemary, mint and cedar oil. The Shampoo is PEG-80 Free. Check Prices | | $ |
| | SynergyLabs Triple Strength Shampoo | Super Extra Strength. Enriched with shea oil, wheat protein, aloe Vera and vitamins. Exclusive Dirt Repel formula. Check Prices | | $ |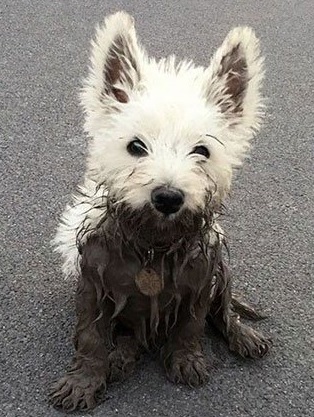 There is no escaping from the fact that our pet pooches love to get dirty. It's part of their character and charm, right? Indeed our dogs seem to be the most happiest when they are caked in mud, leaves and other assorted dirtiness however it doesn't bode well with us owners who have carpets and homes to look after.
A clean dog equals a happy household as nobody wants a dirty pooch on their lap. Bathing your dog not only washes off the dirt, but also gives you both the chance to spend quality time together. It is certainly not wise or advised to give your dog a bath too often as it strips away the natural oils from their fur that gives it protection and a glossy shine. We are fortunate that there is a huge range of different dog shampoos on offer today. All designed especially for a dogs specific needs.
Bathing frequency depends on the age, breed, type and length of coat, and condition of the skin; however, shampooing your dog once a month is an idea place to start.

6 Steps to a Cleaner Dog
To avoid leaving your dog unattended mid-bath, make sure you have all you need to bathe your dog, such as a doggy shampoo, conditioner, towel, ear and eye care items, nail clippers and if necessary, a blow dryer.
Begin by brushing your dog so it doesn't have a tangled or matted coat before you get your dog wet.
Put cotton balls in your dog's ears to keep the water out and consequently prevent ear infections.
Bathe your dog with warm water and rinse thoroughly to avoid leaving shampoo residue, which may irritate the skin. No bubbles should be left on the bottom of the bath.
Dry thoroughly with a towel to remove excess water and finish off with a blow dryer to prevent leaving the coat damp. Make sure the dryer is set at a comfortable temperature, and don't hold it too close to the dog's skin.
Give your dog a yummy treat as a reward for good behavior!
Can you use human shampoo on dogs?
We do not recommend using human products on dogs simply because they are deigned for humans and not animals. We have different skin and needs from animals. It probably would not do much harm on the odd occasion, perhaps an emergency when dog shampoo was not to hand but we as responsible dog owners should always have a supply shampoo.
There is a list of different reasons why you would not use human shampoo on a dog  – Here are the main ones:
Sensitive Skin – Human skin is much more hardy and resilient to chemicals and washing than dog skin. Dogs only have 3 to 5 layers of skin, where as humans have 10 to 15. Our skin can take much more in terms of scrubbing and cleaning solutions. Cleaning your dog with human shampoo could lead to irritation such as scratching, abrasions and dryness.
Skin PH – Humans and dogs have different Ph levels making dog more sensitive to human products because they strip the skin mantel of the natural oils making them vulnerable to parasites and bacteria. Dog skin has a Ph of around 7.5 and humans have a Ph of around 5.5 meaning that human shampoo has to be slightly acidic to break down the dirt and oils.
If you have an emergency and you absolutely must use a human product to bathe your pooch – Then try opting for something that is mild in nature, like those aimed at children and babies.
How often should you bathe your pooch?
One of the most common questions, however there is no set answer. It differs from breed to breed and of course it also depends on your dogs lifestyle and what activities they take part in.
Certain breeds are double-coated. Labradors is an example of such a breed and you should only bathe them, at most – every 3 months. Their double coats are waterproofed with oil and too much bathing will strip them of this oil and remove their waterproof and insulating properties their fur has.
For example; you might take your pooch outside a lot and of course they will get dirty playing around then you would probably need to give them a bath every few weeks or so depending on how dirty they get. Short hair breeds can be easily wiped down with a damp clothe and maybe some waterless shampoo spray.
Pooches that spend most of their time indoors will of course need bathing much less. Depending on how bad they smell you could give them a bath around every 2 or 3 months.
Soap Free Shampoo
The ingredients of the dog shampoo you use for your pet can greatly affect their skin condition. Since dog's skin is more sensitive, they might develop skin reactions as results of using the wrong grooming products. You don't need to rely exclusively on the products that you commonly see on the market today. Dog owners of today are very lucky because they have access to products such as soap free dog shampoo.
Organic and soap free dog shampoos are ideal to those who are looking for an alternative to the pet products they are currently using. There are dog shampoos that contain harsh ingredients such as soap that can irritate and harm not just your dog's skin but its entire well being. If you don't want to compromise your dog's health, make the smart switch to soap free dog shampoo now.
Homemade Dog Shampoo
Homemade dog shampoo is probably the best in protecting the skin of your pet. This does not have harsh chemicals which commercially made shampoos contain. Homemade dog shampoo is both a natural and safe alternative most especially if your dog is suffering from any type of skin disorder. Giving your pet dog a bath is an important aspect of dog grooming and is also essential in maintaining the health and hygiene of the dog. Dog shampoos produced commercially consist of different chemicals which could harm the skin and coat of the dog and will lead to several problems of the skin.

How to choose a Dog Shampoo
Whether your dog has a long, curly or short thick coat, or sensitive skin that requires extra care, you're bound to find a shampoo to make your pooch look, smell and feel beautiful.
When choosing a shampoo, ensure it is a shampoo formulated for dogs as human shampoos can dry out your dog's coat due to the different pH levels (measure of the acidity or alkalinity of the products).
Many different formulas of shampoos and conditioners are available today, specifically designed for different types of dogs. Best to consult your vet the type of shampoo that best suits your dog's needs. Some shampoos are medicated to rid your dog of fleas. For dogs with a high-maintenance coat, such as a Poodle, a higher-quality (and usually more expensive) shampoo will provide additional benefits for the coat, which may be a requirement, especially if you're considering to enter your dog in a show.
No matter what shampoo or conditioner you choose, always read the directions on the bottle before use.
Best Luxury Dog Shampoo – Agatha's Luxury Lather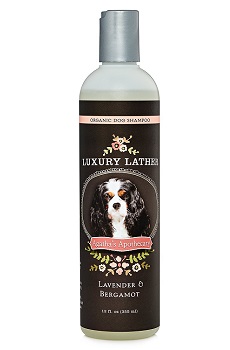 Treat your dog like a prince or princess and give them a luxurious bath! Agatha's Luxury Lather will give your pet the best bath they have ever had and leave them smelling divine and super clean!
This Shampoo might seem expensive at first, but it really does last a long time and represents great value for money. Unlike many shampoos that need half of the bottle to provide a single dog bath, you'll only need a small amount of the super concentrated Agatha's Luxury Lather.
There is small risk of irritation or allergic reactions because the ingredients are healthy, natural and work to soothe irritated skin without stripping the natural oils from your dogs coat. Agatha has stated that "this is the best dog shampoo on the planet!", and it is also made in the USA.
Contains: Organic Lavender Oil, Bergamot Essential Oils, Oatmeal, Coconut & Organic Aloe Barbadensis Leaf.
---
Best Dog Shampoo for Itchy / Dry Skin – OmegaPet Dog Shampoo for Itchy Skin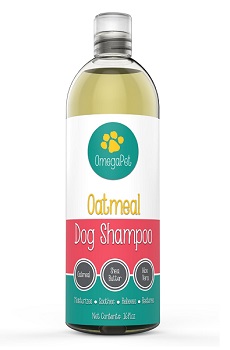 If you have a pooch that is suffering from itchy skin that is NOT related to fleas or any other parasite then you cannot go wrong with OmegaPet Dog Shampoo for Itchy Skin. It is specially formulated to itchy skin and works to soothe hot spots and relieve itching. It contains natural organic ingredients such as aloe, shea butter and natural oatmeal which are well regarded as soothing ingredients.
Not only does it ease your pet's skin but it provides a high quality bathing experience for your pooch and you. This shampoo will get your beloved dog looking brand new after a bath and you will surely be amazed after the first use by how shiny and soft their coat will be.
OmegaPet are very confident of their claims and as such offer a 100% Refund Guarantee within 1 year of purchase. It's unlikely you will need to get a refund as this shampoo sports over 500 positive customer reviews online. They are overwhelmingly 5 star reviews.
Contains: Oatmeal, Aloe, Shea Butter
---
Best Tearless Dog Shampoo – Earthbath All Natural Pet Shampoo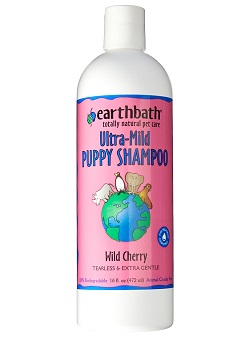 You should always try to avoid getting shampoo in your pets eyes but accidents sometimes happen. If your pooch has a particular grievance about getting some in their eyes then you are probably wanting a dedicated 'tearless' shampoo. Luckily the All Natural Pet Shampoo by Earthbath fit the bill perfectly.
Earthbath's range of shampoos are all completely natural and made from 100% cruelty free and bio-degradable ingredients.
This Shampoo has a number of different variations such as: Clear Advantages, Eucalyptus and Peppermint, Light Color Coat Brightener, Mango Tango, Mediterranean Magic Rosemary, Oatmeal and Aloe, Oatmeal and Aloe Fragrance Free, Orange Peel Oil, Orange Peel Oil & Tearless Extra Gentle. We feel it is the best dog shampoo for value the tear less attribute.
Contains: Oatmeal & Aloe

---
Best Organic Dog Shampoo – Oxgord Organic Oatmeal Dog Shampoo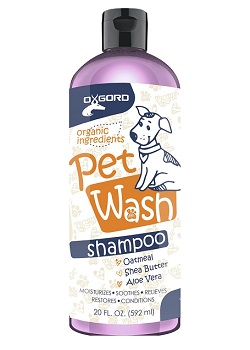 Oxgord Organic Oatmeal Dog Shampoo & Conditioner is a wonderful way of giving your pooch a good wash whilst not exposing them to any potentially harmful chemicals or substances. This shampoo is purely organic, made form only ingredients straight from nature. Not only does it clean, but it cleanses and moisturizes your dogs skin and coat giving them a nice glossy shine. Jojoba, Coconut oil and aloe works to relieve itchy and painful skin causes by dander or fleas. If your pooch has a flea problem, you require a specially mediated flea shampoo to get rid of them.
Oxgord Organic is also marketed as being 'tearless' which is a bonus as no dogs like getting shampoo in their eyes so this shampoo could be for you if your dog is particularly stressed when taking a bath. Some things worth noting – This shampoo is Paraben free and it is made in the USA giving you reassurance of its quality.
Contains: Saponified oils of Coconut, Olive and Jojoba. Lemongrass Oil, Rosemary Essential Oil. Aloe. Rosemary Extract.

---
Best Flea Shampoo for Dogs – Adams Plus Flea & Tick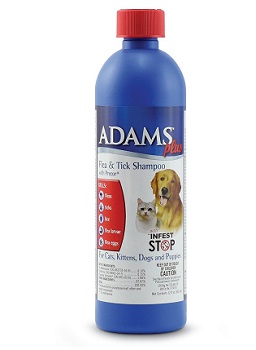 Adams Pet Care are a well regarded manufacturer of anti-flea pet products and their Shampoo is second to none in the industry in terms of customer reviews. With over 300 high rated customer reviews (as of 2016) you can buy with confidence. Adams Shampoo takes a smart approach to killing fleas and other parasites. It is sold by and recommended by Veterinarians. It is one of the best flea shampoo for dogs according to hundreds of highly rated reviews.
The Shampoo is a concentrated and provides your pet with a lathering bath enriched with coconut extract, lanolin, aloe & oatmeal.
The main active ingredient is Precor® – It kills fleas, flea eggs, ticks and lice and it prevents flea eggs from hatching. This ingredient also is a insect growth regulator that gives you up to 28 days of control of pre-adult fleas before they grow to be biting adults.
Contains: Precor®, coconut extract, lanolin, aloe & oatmeal.

---
Best Dog Shampoo for Odor / Best Smelling – Nootie Cherry Blossom Pet Shampoo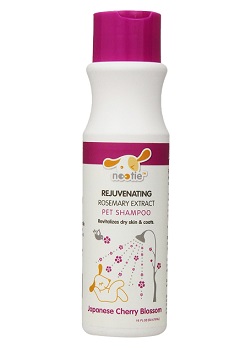 Of course the best smell is subjective to personal opinion but one of the most popular great smelling shampoos is Nooties Cherry Blossom Shampoo for animals. It will leave your pooch with a healthy soft coat whilst smelling wonderfully of cherry blossom!
This shampoo is soap, paraben and free of harsh chemicals providing your pet with a mild wash without stripping their fur of any essential oils. Furthermore it is safe to use with flea and tick treatments.
Made in the USA
Contains: Purified Water, Rosemary Extract, scent of Japanese Cherry Blossom

---
Best Waterless Dog Shampoo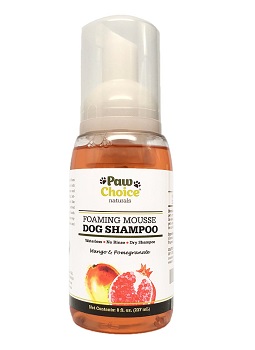 Waterless dog shampoos are a very convenient way of cleaning your pooch without the hassle and mess of giving them a full bath. Paw Choice No rinse Foam Mousse is a fantastic option which gives your pooch a good overall clean requiring no water or rinsing. The mouse works to clean the coat and skin whilst removing bad odor. It's made from premium natural ingredient such as coconut, mango and pomegranate.
Whilst this product will never compete with a proper water bath, it will give you something to use in between baths to keep your dog fresh. It's also handy if your dog does not like water and you can use it anytime and anywhere.

---
Conclusion
We hope this guide has helped you to find the best shampoo for your pooch. If you feel your dog has a medical condition such as dry skin or has a parasite such as fleas or ticks, it is always best to consult your veterinarian first. Do not over-bathe your dog as this can strip the essential oils from their fur.
Please leave any comments or suggestions in the comments section below. And as always we always welcome funny doggy stories or photos you might have to share!