Dogs suffer from bad breath just like humans do. Bacteria and Plaque build up in the mouth and causes the bad smell. Plaque is essentially a combination of bacteria, minerals, and decomposed food. It can be seen on the sides of your pooches teeth as a brown/yellow layer. Providing your pooch with dental dog chews on a regular basis can prevent the buildup of tartar & plaque reducing foul smelling doggy breath.
We will look at the best doggy dental chews that think offer the best value for money as well as being useful and present them in a compare table. If you are in a hurry – Check out our best picks below!

| Image | Chew | Features | Our Rating | Price |
| --- | --- | --- | --- | --- |
| | GREENIES Original Dental Dog Treats | Available in jumbo, large, regular, petite and teenie. Made in the USA. Helps prevent plaque and tartar build up. Check Prices | | $$ |
| | Virbac Oral Hygiene Chews | Dual Enzyme System helps to eliminate plaque-forming bacteria. Combines abrasive action & natural antiseptic activity to fight plaque. Made using select beefhide. Check Prices | | $ |
| | Milk-Bone Brushing Chews | 16 vitamins and minerals for health. Cleans like a toothbrush, tastes like a treat & Clinically Proven . Produced in the USA. Check Prices | | $ |
| | PEDIGREE Dentastix | Cleans down to the gum line with special X shape. Freshens breath, cleans teeth and clinically proven to reduce tartar and plaque up to 80%. Chicken, Bacon & Beer Flavor. Check Prices | | $ |
| | Jakpopin Dental Chew Ball | Special groves help clean inter-dental spaces and teeth. Made of non-toxix, non-abrasives materials. Strong, bouncy tough tennis ball size ball. Check Prices | | $ |
Many dog owners out there can relate to
dog bad breath
. You come in from a hard day at work, and your pooch greets you with lots of loving doggy kisses. You appreciate the love and greeting, however, the foul smell of rott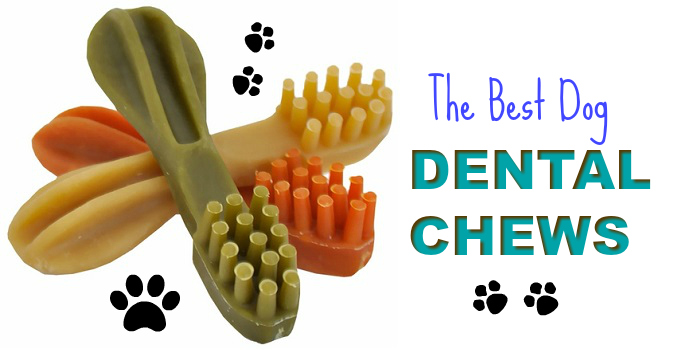 ing food is overpowering and off putting! Thankfully there is a plethora of doggy dental chews & toys available online that will fight plaque, bacteria and improve the smell of your dog's breath.
Why should i care about my dogs mouth?
If you love your dog and do not want to be paying expensive veterinarian fees throughout the life of your dog, then you should take an active interest in the health of their teeth and mouth. If you neglect their mouth health, they will be at a higher risk of tooth and gum related problems.
There are many conditions and illness that can be prevented just by keeping their mouth clean. One such disease is that of the gums. This is one of the most dangerous ones if left untreated can lead to an infection that can spread to other organs and become severe.
Other problems include swollen gums, tartar buildup, sensitive teeth, chipped teeth and even your dog losing their teeth.
In conclusion – Keeping their mouth clean is just another part of the general upkeep your dog requires and deserve. You should want your companion to stay in prime condition and to live a long and happy life. Dental health is critical.
Prevention is better than Cure
As with many things health related – prevention is better than cure. Regularly providing your dog with dental chews will keep plaque and bacteria at bay and keep your pets mouth in good healthy condition. Failing to do this can lead to serious issues that would need more drastic action such as brushing your dog's teeth every day or professional veterinarian help.
This video illustrates the very worst of what can happen if you neglect your dog's teeth. A few dollars a month in dental chew costs is next to nothing if you help prevent pain and suffering.
What should a good dental chew do?
Clean the teeth – Their design should be as such that they work with the chewing action of the dog to scrape away plaque and tartar from the teeth, especially the outsides of the teeth where there is most build up.
Be safe – You should choose the correct size dental chew for your dog because giving your pooch something that is too small might become a potential choking hazard. Giving your pooch a larger chew means they will more than likely spend their time eating and trying to break it up rather than attempt to swallow it whole.
Be nutritional – Most dental chews are not only good for your dog's teeth but also provide a nutritional boost. You should choose a chew that has a whole range of vitamins as well as calcium that is good for their bones and teeth.
Be tasty – It goes without saying really! If your dog does not appreciate the taste, then they will not chew on it. Most brands of dental chew have different flavors to suit different tastes.
Greenies Original Dental Dog Treats Review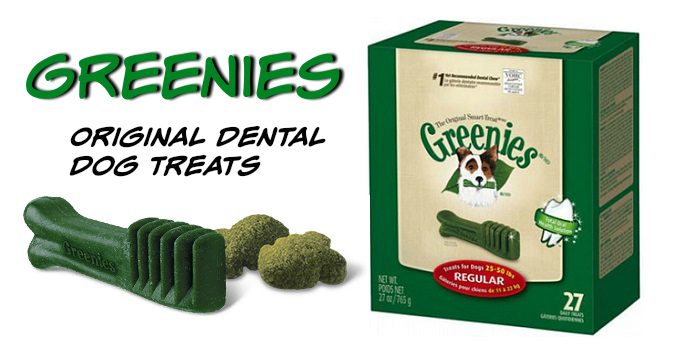 Check Latest Prices and Reviews

Greenies original dental treats do set the standard in the industry for doggy dental chews. They are clearly far more attractive than the competition by the sheer number of customer reviews you can find available online. Over 10,000 as of 2016 and the vast, vast majority of them have a 5-star rating.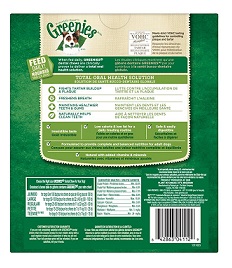 A great deal of their popularity can no doubt be attributed to the fact that they are available in a whole range of sizes (petite to jumbo) to suit all breeds of dog. You can also get different size boxes from 6oz to 36oz.
Chewing on Greenies not only gets into the nooks and crannies of your dog's mouth, but they are also full of good nutrition and low in fat to aid in the overall health of your pet. The chews are highly soluble and easy for your pooch to digest, but as always you should always make sure a drink of water is always available.
They contain chlorophyll to help freshen your pooches breath naturally. They are certainly one of the best dental chews for dogs available today.
Sizes Available: Teenie – Dogs 5-15lbs, Petite – Dogs 15-25lbs, Regular – Dogs 25-50lbs, Large – Dogs 50-100lbs, Jumbo – Dogs 100 lbs+

Quick Summary
Pros
Available in a wide range of sizes
Helps fight tartar & plaque build up
Made in the USA
Cons
Not gluten free
not suitable for very small dogs
Few customers reported receiving expired products
Greenies set the standard high here with their dental chews. They are not only effective as teeth cleaners, but they are packed full of vitamins, minerals, and protein. If you have a small doggy or a large one, Greenies have all size of pooch covered with their range of chews.
Virbac C.E.T. Enzymatic Oral Hygiene Chews Review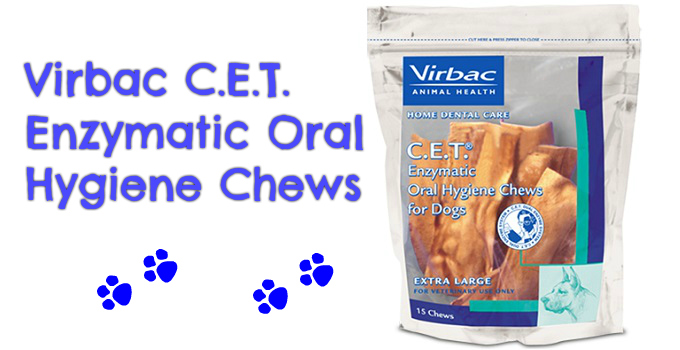 Check Latest Prices and Reviews

C.E.T Enzymatic Chews are designed to help prevent plaque build-up in on the walls of the teeth, and they are made of rawhide. You are probably thinking "just another dental chew then," however, these chews have a unique plaque fighting enzyme that makes them different and perhaps more effective than other chews featured here. Another thing key to these chews is the fact that rawhide is naturally abrasive which further helps the removal of plaque. The main ingredient is course beef-hide making it a taste treat that dogs will surely love. After this is dextrose. The dextrose sugar is used as a source of food for the enzymes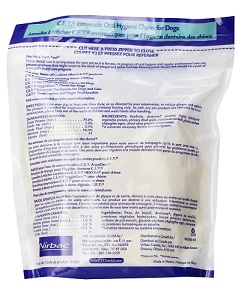 There are well over 5000 customer reviews available online that are for the most part 5 out of 5 stars giving you ultimate peace of mind before making the purchase.
Not only are they a great tasting dental chew and a useful part of a mouth care program for your pooch, but they also have a natural antiseptic that will work to kill bacteria.
If you want to go one step further – Virbac Hextra Premium Chews are available, and they contain extra antiseptic power by containing Chlorhexidine. This might be an option if your dog's mouth is in a particularly poor state.
Virbac recommends giving your pooch one chew a day as part of a regimental program to keep your dog's teeth in good shape.
Sizes Available: Petite – Under 11lbs, Medium- 11 – 25lbs, Large – 26 – 50lbs, Extra Large – 51lbs

Quick Summary
Pros
Naturally Abrasive
Contains Enzymes
Antiseptic
Cons
Few reports of choking dogs
Smelly to handle
Limited number of flavors
These chews are a great tasting dental chew for your dog. They can be used as a one-off treat or as an active daily program to keep plaque and tartar down. They are antiseptic, helping to keep bacteria and bad smells at bay.
Milk-Bone Brushing Chews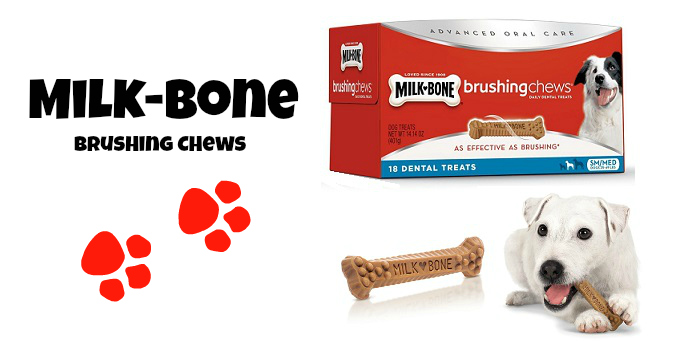 Check Latest Prices and Reviews

Milk-Bone is a well-respected company that produces a large range of chews and treats for dogs. The Brushing Chews are their contribution to the niche 'dental chew' industry and are clearly aimed primarily at cleaning teeth. Clearly, they are very popular among the dog community because they sport over 1000 positive reviews online (as of 2016).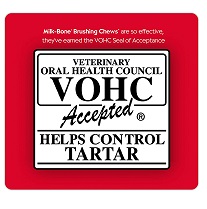 Milk Bones are like mini toothbrushes for your pet pooch. They are uniquely well designed to tackle all areas of your pet's mouth. Apparently "They clean like a toothbrush" and taste like a chicken flavored treat making the milk bones a great solution for a daily care routine for your pooch that they will surely love and look forward to. Not only do they taste great, but they also are packed with 16 essential vitamins and minerals for excellent dog health and calcium for healthy teeth and bones.
They taste of delicious chicken that 99% of dogs will love. They are clinically proven to be as effective against bad breath and tartar build-up as brushing. They clean teeth with their nubs and ridges that act in a similar fashion to toothbrushes and the twist design helps your pooch maneuver the chew around their mouth contributing to clean the back teeth which are hard to reach as well as getting down to the gum line.  They are certainly one of the best dental chews for dogs available today.
Sizes Available: Mini, Small/Medium & Large

Quick Summary
Pros
Unique Shape
Tastes like a treat
12 Vitamins & Minerals & Calcium
Cons
Too hard for broken/weak teeth
Limited number of flavors
Potential choking hazard
A good solid dental chew for dogs that acts similar to a toothbrush. It has a unique design allowing it to attack plaque on the back teeth as well as reaching down to the gumline. Also a tasty treat and nutritious containing lots of vitamins and minerals as well as calcium.
Pedigree Dentastix Review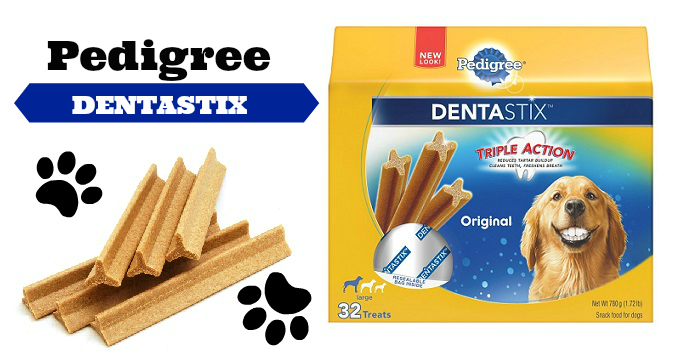 Check Latest Prices and Reviews
Dentastix are great fresh treats for pooches that also acts as dental aids to clean teeth. They are made with a distinctive chewy texture as opposed to the harder dental chews out there making them the first point of call for those with dogs with weak and broken teeth. They provide daily oral care and cleaning by getting in between the teeth and even down to the gum line to clean away plaque and bacteria.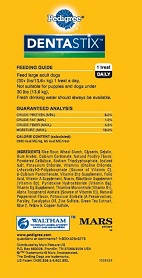 They are clinically proven to reduce the build-up of tartar. They are X-Shaped (patented design) that aid them to reach those hard to get at areas. If you enjoy doggy kisses from your companion, then you might choose the minty Dentastix rather than the Original, bacon or beef although of course, this depends on your dog's tastes. They are a convenient and delicious treat giving your pooch a satisfying treat as well as helping keep their teeth clean. According to Pedigree – The Average tartar reduction was 47%!
With over 3000 customer reviews available online the Dentastix are popular and are available worldwide.  This provides maximum reassurance before you purchase.
Sizes Available: Mini, Small/Medium & Large

Quick Summary
Pros
Softer than other chews
Patented X-Shape design
Available in mint
Cons
Not the cheapest
Limited number of flavors
Potential choking hazard
A good solid dental chew for dogs that acts similar to a toothbrush. It has a unique design allowing it to attack plaque on the back teeth as well as reaching down to the gumline. Also a tasty treat and nutritious containing lots of vitamins and minerals as well as calcium.
Jakpopin Dental Toy Review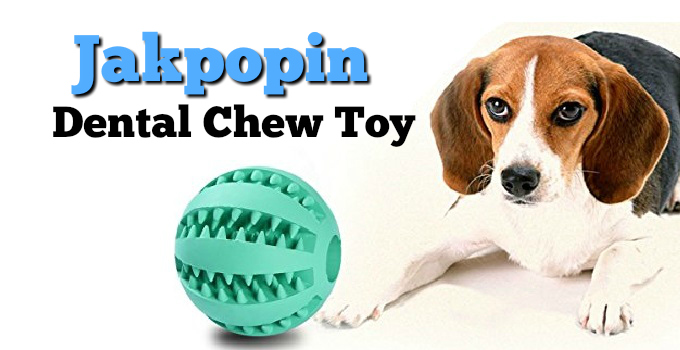 Check Latest Prices and Reviews
Although this article is focused on doggy dental chews that are edible, we feel it would be beneficial to include a chew toy with dental benefits as well as introducing the dental chew toy concept to people who might be unaware of them.
The Jakpopin Ball toy is aimed at those wanting to provide their pooch with a fun toy to chew as well as cleaning their teeth. The special grooves work to clean the spaces between your dog's teeth and help keep plaque and bacteria to a minimum. Also, the gums will be gently massaged by the chewing action which also brings health benefits to the dog.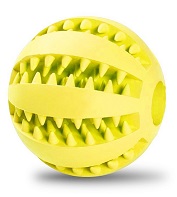 The Jakpopin dog ball is made from 100% safe materials and will not harm or poison your pet. It is made from non-toxic and non-abrasive felt and  natural soft rubber.
Caution: Your pooch should always be supervised with playing with this toy. As with all toys – there is a small risk of accidental swallowing. You should also regularly inspect your dogs toys to make sure there is no damage and bits falling off and becoming swallow hazards.
Dental Toys vs Dental Treats
Toys and treats can both be used to maintain healthy teeth cleaning regime for your pet. However, of course, you cannot give your dog an unlimited supply of treats. If you have a pooch that enjoys chewing, then a dental toy would be an ideal option to allow them to use and reap the benefits for as long as they like.

Quick Summary
Pros
Made from safe material
Cheap
Long Lasting
Cons
Small
Dogs might get bored
Small choking hazard
A great toy to keep plaque down in your dog's mouth made from 100% safe materials you can safely provide this to your pet at all times and this toy can be an effective method to maintain a healthy dental regime for your dogs.
Conclusion
We hope you enjoyed this article has armed you with the knowledge required to choose the best dog chews for your pooch! Dog dental chews are a great way of treating your dog and helping to keep their teeth clean at the same time. Many of us dog lovers enjoy doggy kisses from our companions and bad breath can be a barrier to this expression of love from our pooches. Bad breath is not the worst aspect of poor dental health – there are many diseases and conditions that come from a build up of plaque and bacteria.
If you have any tips, comments or advice please use the comments section below. We also welcome funny dog stories as well!
References
1. https://www.cesarsway.com/dog-care/dental-care/7-tips-for-doggie-dental-care
2. http://www.animalplanet.com/pets/healthy-pets/dental-dog-care-tips-tricks/